Project Overview
The Triangle is one of the fastest-growing regions in the country. Growth brings prosperity and new employment opportunities but also adds congestion to our roadways. By providing a congestion-free alternative, light rail will help manage future growth while creating vibrant, walkable communities and connecting residents to jobs, education and health care.
The light-rail project is a 17.7-mile line that will provide over 26,000 trips per day to residents and commuters in Durham and Chapel Hill. The rail project will connect three major universities, three major medical facilities and three of the top 10 employers in the state: Duke University, UNC-Chapel Hill and UNC Health Care.
Project Benefits
When light rail connects Durham and Orange counties, residents will have greater access to jobs, health care and educational opportunities. The light-rail project will support almost 20,000 new jobs in Durham and Orange counties and each year generate $4.7 billion in additional GDP in Durham and Orange counties, $600 million in additional GDP across the rest of North Carolina and $175 million in tax revenues to towns, cities, counties and the state.
As part of a strong transit plan, the light-rail project will connect to current and future transit services including GoTriangle's bus systems, the commuter rail project and bus rapid transit. Portland's TriMet transit network shows a glimpse of what the Triangle could look like in the future. Check out our TriMet video.
Participate
Public meetings: GoTriangle holds quarterly public meetings to engage and inform residents. We have two upcoming meetings in April 2018.
Presentation request: If you would like a public outreach associate to come speak with your group, organization or company, please fill out this form.
Email signup: Sign up to receive project updates. We'll let you know when we hit a milestone or hold a public meeting near you.
Frequently Asked Questions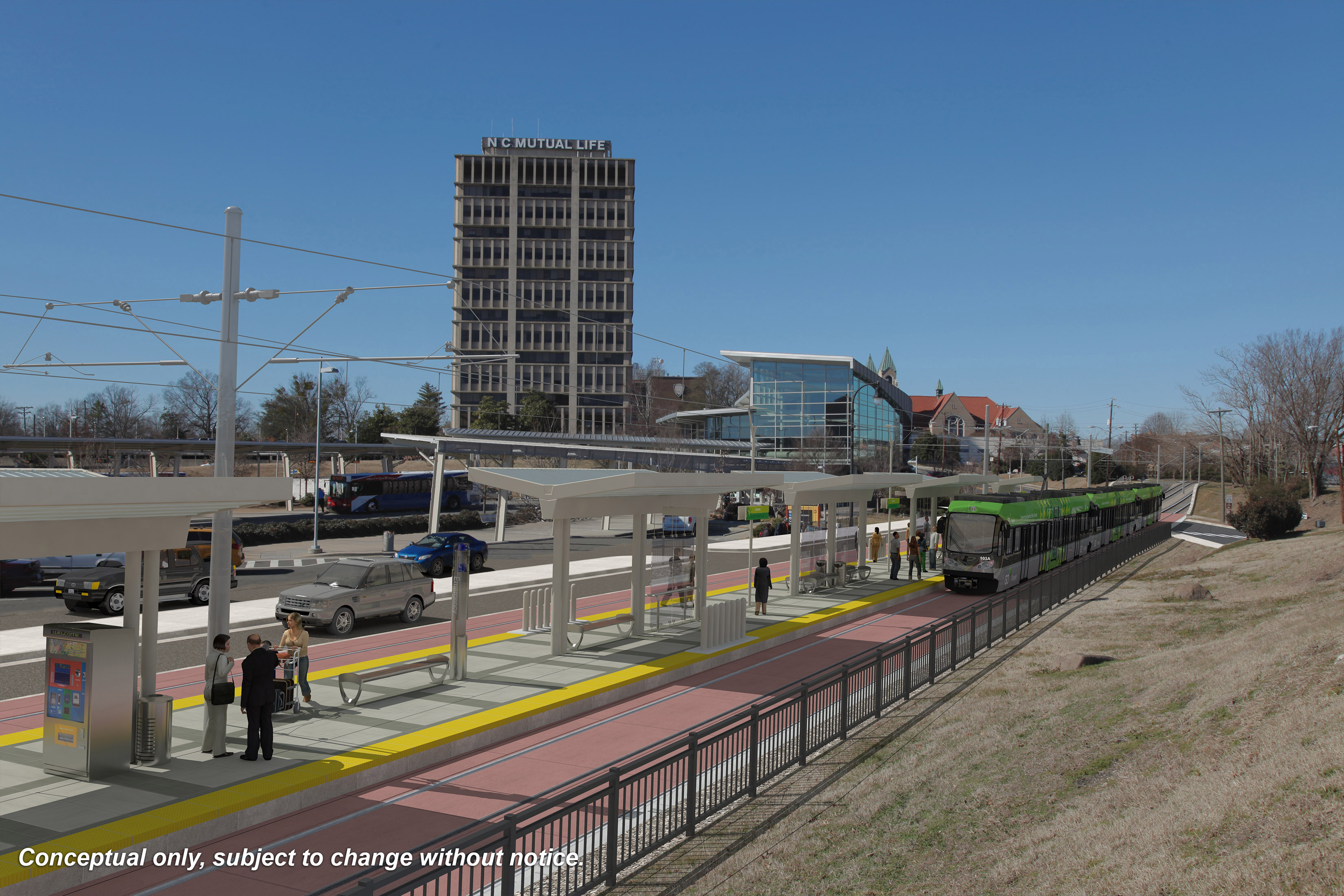 What is light rail?
Light rail is a transit technology that uses lighter rail cars than traditional passenger rail systems like subways or commuter rails. Light rail operates in dedicated tracks with electrical power supplied from an overhead catenary system. The light-rail vehicles are designed to operate in mixed traffic or in an exclusive right of way, either at grade or on an elevated structure. Light rail has benefited several American cities, such as Seattle / Tacoma, Minneapolis / Saint Paul, Charlotte and Portland.
Why do we need the Durham-Orange Light-Rail Transit Project?
For our community to continue to grow and maintain our enjoyable quality of life, the Triangle needs a high-quality interconnected transportation system. Years of transportation studies identified the corridor between Durham and Chapel Hill as one of the highest-priority corridors for transit investment.
Even under current demands, the roadway network and transit systems between Durham and Chapel Hill are beginning to strain. Congestion continues to increase, and as more people move to our area all residents and visitors will experience increased travel times and sprawl compromising our open space and rural areas.
This project will connect residents to many of our area's top employers, provide access to high-quality medical care and educational opportunities and help our local governments prepare for growth by fostering compact development along a high-capacity transportation network.
What is the engineering phase?
On July 28, 2017, the Federal Transit Administration approved the Durham-Orange Light-Rail Transit Project to advance into the engineering phase of the federal Capital Investment Grants Program. This means that GoTriangle will work closely with FTA over the next few years as the project design is completed. It also means our region is on track to receive a federal investment of $1 billion.
How can I learn more about the project?
Learn more about the Durham and Orange County Transit Plans by visiting goforwardnc.org or by attending our quarterly public meetings, requesting a presentation, signing up to receive GoTriangle emails or following GoTriangle on social media.
What is the project schedule?
Pre-planning: 2008-2014
Project development: 2014-2016
Final design and engineering: 2017-2020
Construction: expected 2020-2028
Light-rail service begins: expected 2028
Estimated Completion Date: