Research Triangle Park, NC (Sept. 26, 2018) – In her striped dress and maroon ball cap, Lisa Jo Douglas was waiting at the door of the United Way donation center in Lumberton, ready to give out a thank you, a God bless you and oh-so-many smiles to the volunteers arriving with buses full of hurricane-relief donations from the Triangle.
One bus. Two buses. When the third bus pulled past, Douglas says, her eyes filled with tears.
"I saw those three buses coming, and I said to myself, 'We are not alone in this'," says Douglas, who describes herself as a community servant. "God sent you to bless our community and, from the heart, we do appreciate it all."
The critically needed goods on those buses and on two others and a van that traveled to Newport on Tuesday were from the Triangle residents who contributed to GoTriangle's Hurricane Relief Bus drive Thursday. The drive netted more than 60,000 pounds of supplies for our North Carolina neighbors devastated by Hurricane Florence, which made landfall in Wrightsville Beach on Sept. 14 and whose rains continue to plague parts of the state with flooding.
In the storm's aftermath, floodwaters covered much of Newport in Carteret County. Travis Clark, the volunteer Emergency Operations manager at Sanctuary Church of Newport, says it has been heartbreaking to see members of the community start trying to pick up the pieces after losing their homes. 
The goods he helped GoTriangle and United Way volunteers unload at the church Tuesday are gold to the people who need them. Inside a gathering hall, volunteers set up supplies on tables and allowed families to take the items they needed most.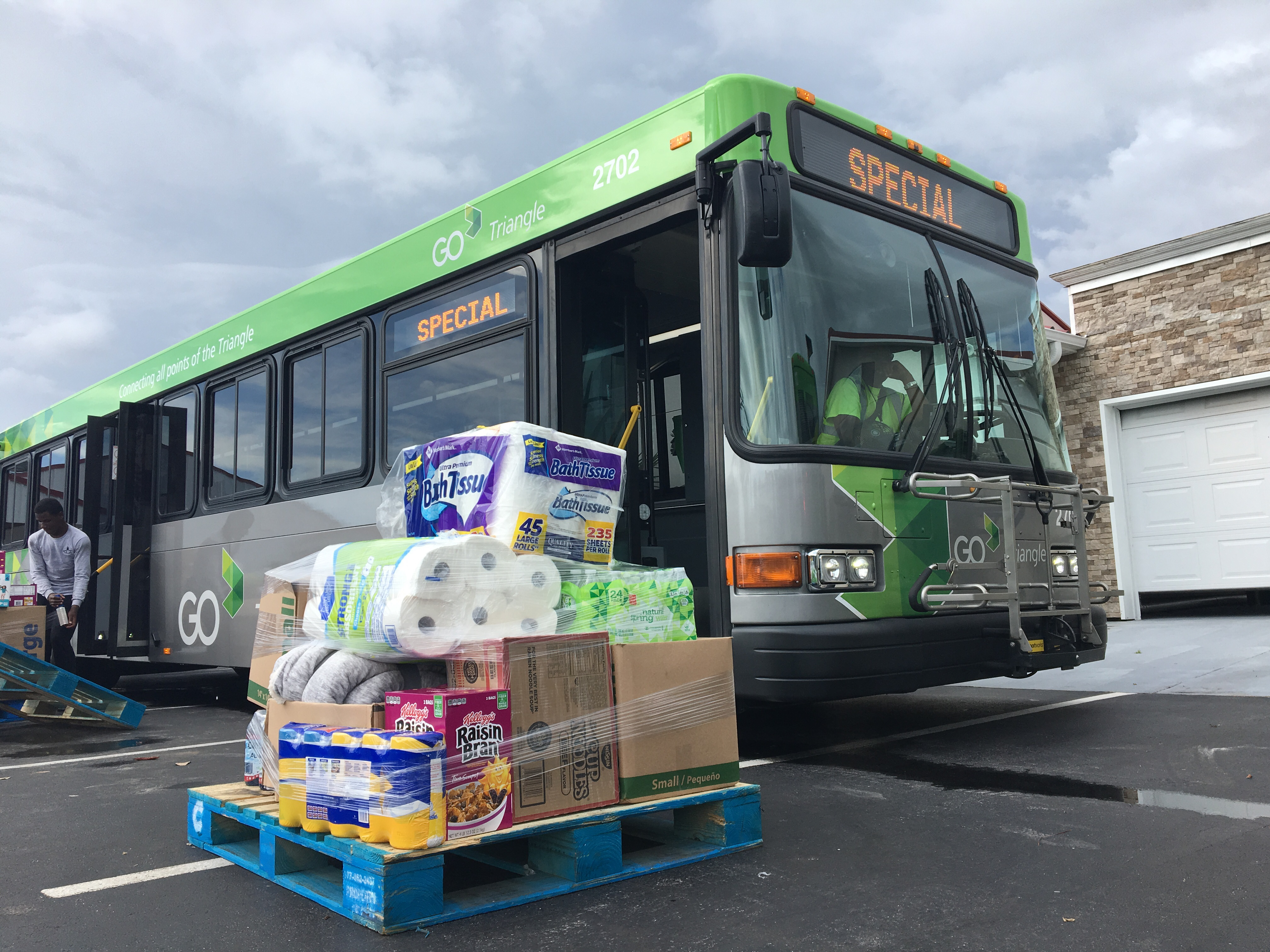 "It is really incredible," says Clark, who estimated that more than 300 Carteret and Craven county families have been helped there so far. "These buses are packed with supplies, and it's overwhelming to see the amount of support that we're getting from the western part of the state and from other states. We've received supplies from Florida, Ohio, Kentucky, and to see the nation coming together for this tragedy, it's just really heartwarming."
That's a sentiment echoed by Jonathan Locklear, Lumberton's landscaping supervisor who, along with several other city employees, helped unload the buses with cases of water, boxes of diapers and bags of cans passing among more than 10 sets of hands in assembly-line fashion.
"It's been a trying time for everybody, trying to get back up," says Locklear, who stressed how much of Robeson County had yet to fully recover from the blow of Hurricane Matthew in 2016, let alone Florence. "You can't really understand the devastation from water until you see it. But the community has been pulling together and helping. It will show you just how strong America is. Anyone out volunteering, I salute them."
Collaboration and compassion 
In some ways, the community unity is the silver lining to these dark clouds of destruction, says Joanne Branch, director of the United Way of Robeson County. 
"To see how much people care, to go out on a limb and roll up their sleeves and do what they can," she says. "These are much-needed supplies, but it's also such a heart-warming expression of other folks in the state just reaching out and collaborating outside Robeson County to bring our county the relief and recovery items we so desperately need. We appreciate the support and compassion that all of the folks have shown Robeson County." 
On Tuesday, Marnita Little stopped by the delivery site in Newport to replenish her supplies. The partially disabled woman, who usually has a nursing aide to help her with things like grocery shopping, spent nearly a week without power in her flooded neighborhood and lost everything in her refrigerator.
"You didn't have to do this, so I appreciate that, I really do," Little says. "I would do that if it were the other way around and I had the ability to go out and help somebody. I would help somebody."
Knowing they would be helping people like Little is why many of the GoTriangle and GoDurham staff members volunteered to deliver and unload what the Triangle community so graciously gave. 
Susan Williams says sitting on her couch watching the flooding unfold on TV made her start asking herself what she could do.
"When they asked for volunteers, my hand was the first that went up," says Williams, a GoDurham bus operator who shuttled supplies to Lumberton on Tuesday. "I just like helping people, especially with disasters going on. It's an honor to come here and help. I feel like a part of the recovery now."
Vinson Hines Jr., GoTriangle's assistant director of Transit Operations, is from Goldsboro, also in Eastern North Carolina and another town affected by Hurricane Florence.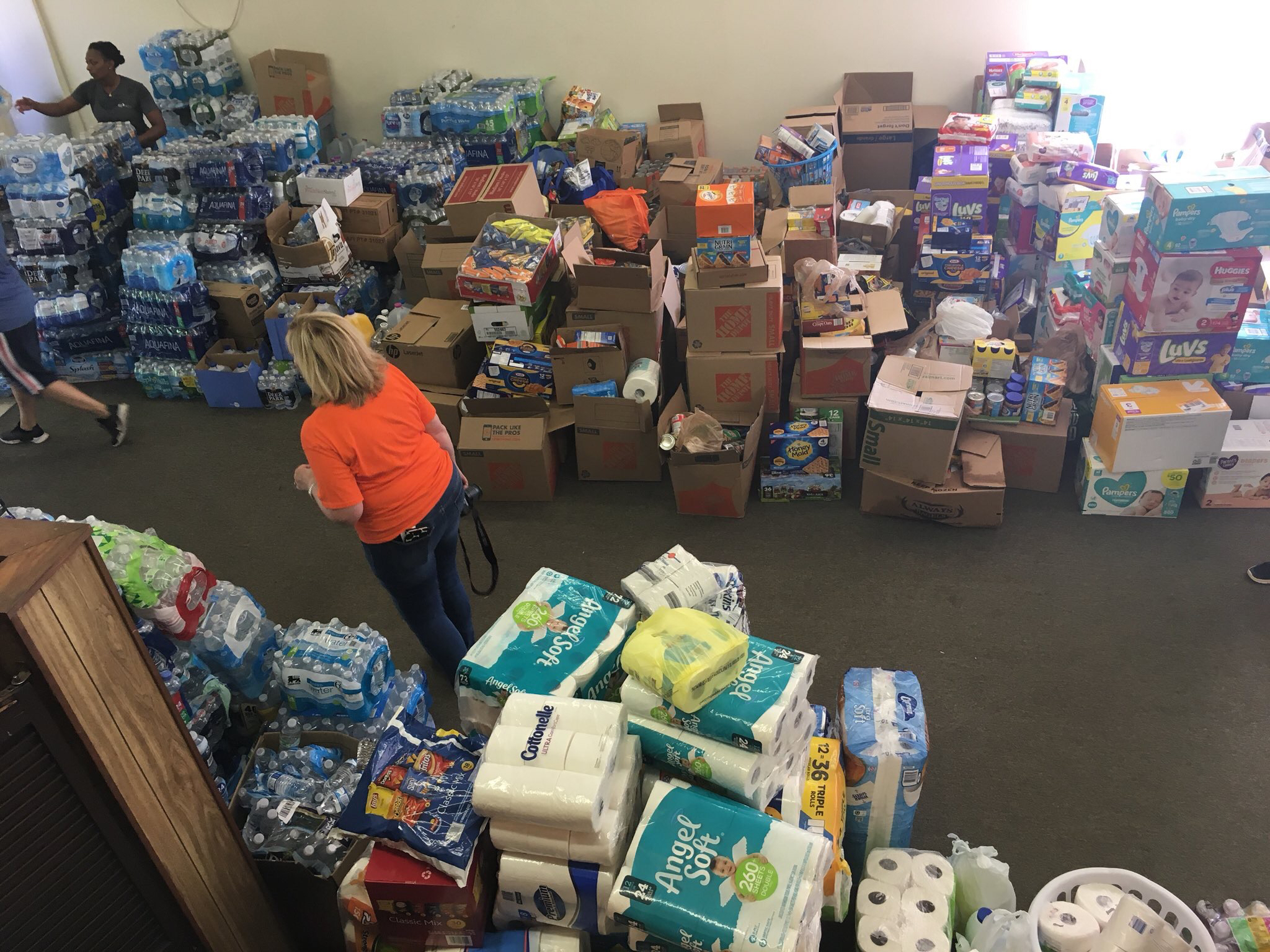 "It means a lot to me to be able to participate in taking these desperately needed supplies to the folks down East who have been devastated by Hurricane Florence," Hines says. "I know they would be there for me if we had gotten the worst of it."
Overwhelmed in a good way 
That volunteer spirit suffusing the site deeply touched Branch and Carolyn Floyd-Robinson, chairman of the board of the United Way of Robeson County.
"I'm excited because I believe God is gonna bring us through," says Floyd-Robinson, a social worker who runs a substance abuse program at a nearby prison. "People volunteered to help other people out and don't ask for anything. They aren't paid. People just show up, and I'm excited. I'm thrilled and overwhelmed in a good way."
As for Branch, she urged her fellow North Carolinians to remember that no community is immune from this kind of disaster so, when given the chance, we all should reach out to whatever community is in need.
"We have volunteers who are coming in today, that's one thing about Robeson County, even folks who have been affected by the storm are out there volunteering, and they're out here helping wherever they can," she says. "I'd encourage people to support one another in North Carolina. It's a great state. We have good-hearted people here, and this is a display of the compassion that folks 90 miles away are showing for us."
When the third bus in Lumberton was empty about an hour and a half after its arrival, volunteer Lisa Jo Douglas was still there. Douglas knows what it's like to lack every basic necessity her hands were helping unload. Her home and car were destroyed during Hurricane Matthew.
"I'm so happy I'm able to get here and help," Douglas says. "It makes you feel good all the way through. And I can tell you, it's much better to give than to receive."
As she stepped through the door into sunlight, Douglas had a few more things to give: a hug to anyone within reach of her appreciative arms.
---
The Hurricane Relief Bus drive
The Hurricane Relief Bus drive was part of a larger Here to Help: Hurricane Relief effort orchestrated by WRAL-TV that also included the United Ways of North Carolina and the Greater Triangle, the Food Bank of Central & Eastern North Carolina, GoTriangle, Alliance Health and NC State University.
The United Way of the Greater Triangle and the Food Bank of Central & Eastern North Carolina are continuing to take monetary donations for Hurricane Florence relief efforts through their websites: foodbankcenc.org and unitedwaytriangle.org/
On Saturday, GoTriangle and NC State University will continue their hurricane-relief partnership as the transit agency donates buses and operators for the school's own donation drive. NCSU has asked football fans to fill the buses at its 12:20 p.m. football game against the University of Virginia that day.