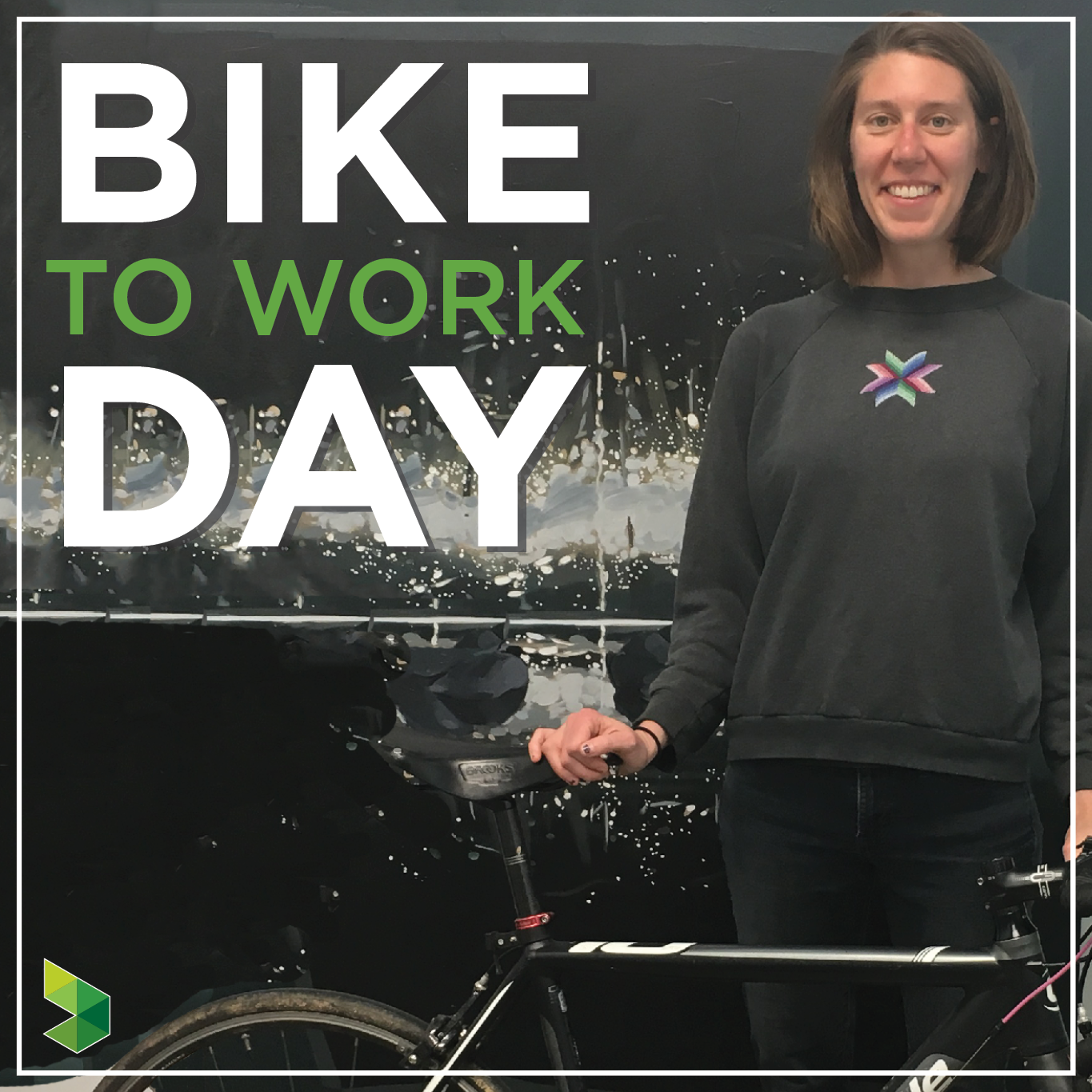 On Friday, before artist Annie Blazejack straps on her bike helmet and pedals from her home in the Five Points area of Raleigh to her studio 4 miles away, she'll check the weather so she can choose the appropriate clothes on national Bike to Work Day.
She'll plan her route along the city's backstreets, a route she's still perfecting since moving from Miami, Florida, to Raleigh in September. Finding a path that avoids busy roads or sidewalks all together has eluded her.
And, chances are, once on her way, she'll stop a few times to enjoy a remarkable sight or to get a coffee, which she'll put in the water bottle holder on her bike.
This is Blazejack's every workday routine, unless the weather is particularly bad. In that case, she'll take an Uber, guilt-free, because of the money she and her husband have saved by owning only one car.
"He uses it for his commute because he found a job in Durham," Blazejack says. "He has an awful commute via car, and I have a lovely commute I really like, and it's a bike ride."
Not having a car payment and all of the other attendant costs of owning a vehicle for 10 years meant the couple could afford to buy their first home in Raleigh.
"There's the personal health benefit to riding your bike, no question," Blazejack says. "Everyone kind of knows that. There's the environmental benefit of not being responsible for all of those emissions, not being responsible for the material for making one more car. And then I think it also can be a big financial benefit, depending on how you set yourself up."
Blazejack is quick to mention that even breaking even is worth it, if you think about things holistically. She chose her apartment in Miami based on its proximity to her art studio, a grocery store and a hardware store.
"Say you don't spend your $400 a month on your car payment, but you do spend $400 on a more expensive apartment because it's convenient to bicycling," she says. "We didn't set out planning that, but we, in retrospect, we're very, very glad for financial reasons that we've been riding bikes."
The mental health benefit
Blazejack would be hard-pressed to choose whether it's the financial, environmental or health benefits she enjoys most from her commitment to bicycling to work every day.
"Your legs are stronger, your heart is stronger and your lungs are stronger," she says, noting that Raleigh is quite a bit hillier than Miami. "There's also a mental health benefit to biking. Getting regular exercise makes me calmer and happier and less anxious about my work."
Finding a biking community in Raleigh through the nonprofit Oaks & Spokes helped the newcomers acclimate to their new city and make some friends. The organization sponsors events and group rides and advocates infrastructure improvements to make bicycling easier and safer for everyone.
"There's also a social benefit to biking," Blazejack says. "I know more people, I see my city and I feel like I belong here. When you get place to place by car, you're moving too fast to notice what makes different streets kind of unique. On a bike, you're just more aware of the character of a place, and what it sounds like, and what it smells like, what it's like in winter and what it's like in summer."
Every now and then, Blazejack pauses during an interview to remove a layer of clothes because the day has gotten warmer since she biked to her studio that morning. Planning ahead is all that is necessary for successful biking, she says.
"In the winter, you layer up, have a coat and wear all your clothes, but you warm up because you're doing work when you ride your bike," she says. "In the summer when you're wearing less clothing and sweating, when you're bicycling you're getting wind and airflow, so it kind of cools you down. At both times of year, the temperature is a little bit moderated because you're on your bike."
Planning means also thinking about your return trip each day. Will it be raining? What time is sunset?
"You need to know whether to remember your lights or reflective vest," she says. "So much of life you can just do as you go, check your phone in the afternoon. But with bicycling, you do need to plan ahead."
Bike to transit stops
Even when Blazejack travels to Durham, she incorporates bicycling into her trip. Both the GoTriangle Durham-Raleigh Express bus and the Amtrak train between Raleigh and Durham accommodate bicycles, and she has taken both after bicycling to a bus stop or station. A lot of people probably don't bike or take transit because they think access is just too far away, she says.
 "A rule of thumb is, if your workplace is within 4 or 5 miles of your home, you can probably bike there, and it's probably easier than you think," she says. "Also, sometimes you don't think transit is within range, but if you pair your bicycle with a bus route, that can work really well."
Blazejack says almost everyone has something within biking distance from their homes that they want to visit, so those who have been thinking about trying to bike to work should start there.
"Then I would say try out biking to work on the weekend on a quiet day," she says. "Feel confident about the route you're going to take. And try to think of it as a fun adventure."
Numerous organizations across the Triangle are sponsoring Bike to Work Day and other Bike Month events. Find a list here. In addition, GoTriangle's Transportation Demand Management Department can help new bicyclists find routes and bike buddies. Find information here.