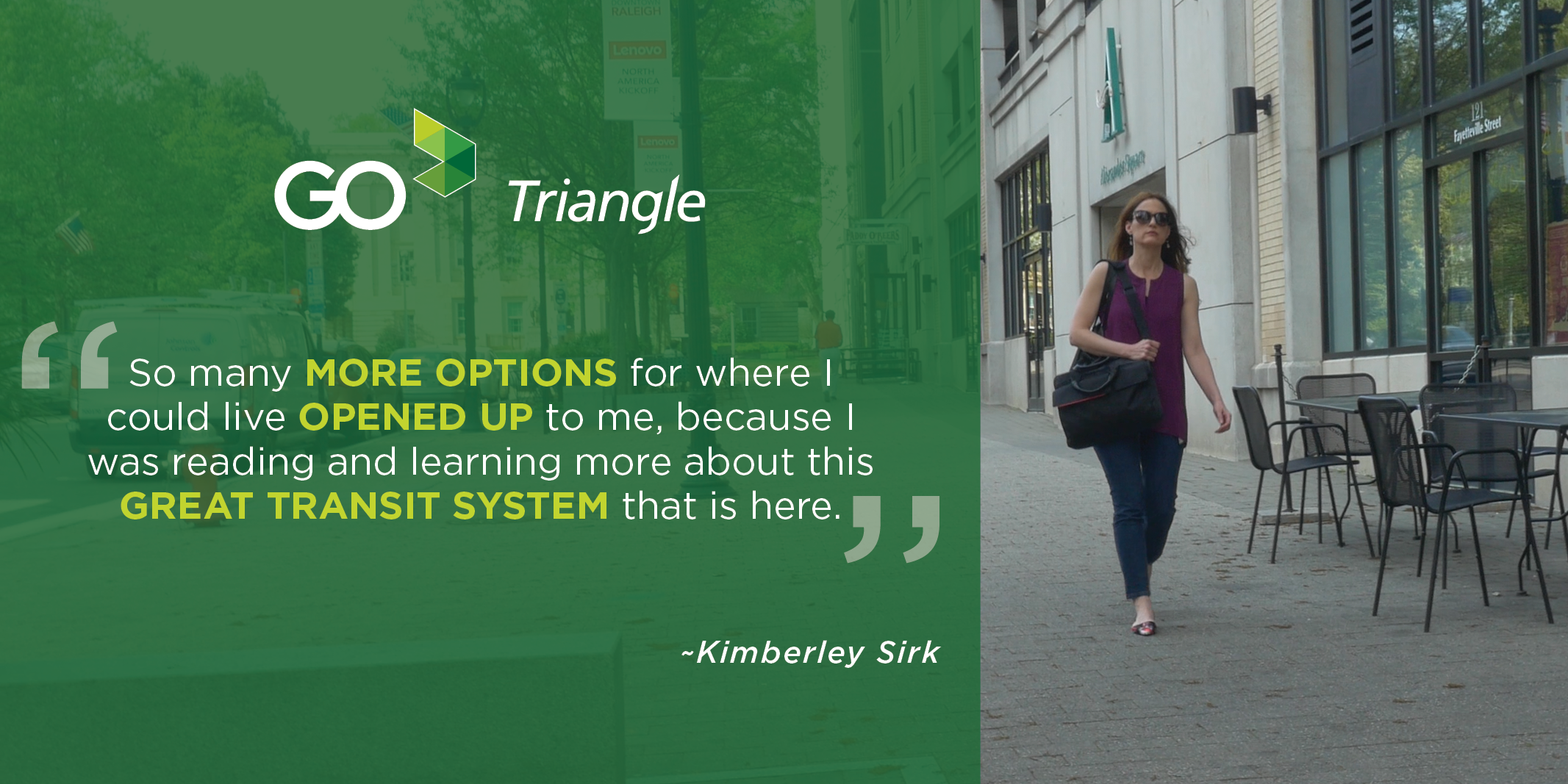 Research Triangle Park, NC (April 24, 2019) – In honor of national Get on Board Day on Thursday, GoTriangle is offering riders the opportunity to download and print a free pass to use on any of the agency's 22 express and regional routes.
 "We really wanted to make it convenient for people to try," says Wendy Mallon, GoTriangle's marketing manager. "Every year, we're putting more buses on the road going to more places more frequently, so I really hope people will go see what transit opportunities are available to them."
Get the free pass here then use the trip-planning tool at gotriangle.org to map your route. To make transit even more accessible, new routes and improvements are coming in August, too.
The largest expenditure for most Americans after housing is transportation. The average household spends 18 cents of every dollar on transportation, and 96 percent of that goes to buying, maintaining and operating cars. Getting rid of a car and taking public transportation can save a household nearly $10,000 a year.
Find more information about the American Public Transportation Association's national Get on Board campaign here.
"Traffic here is only gonna get worse," says Kimberley Sirk, who commutes between Cary and Raleigh every weekday using transit. "The parking situation downtown, it never improves. On the bus, I feel like I'm being chauffeured around, and I avoid parking. Why wouldn't you do that? We all have a carbon footprint, and we all can help in some way."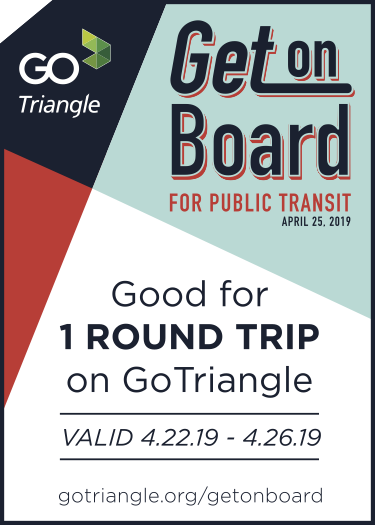 Each year, public transportation services save the United States 4.2 billion gallons of gasoline, and communities that invest in public transit reduce the nation's carbon emissions by 37 million metric tons.
In 2017, Americans took 10.1 billion trips on public transportation, with about 6,800 organizations providing it. Every $1 invested in public transportation generates approximately $4 in economic returns, powering community growth and revitalization. 
"Another good thing about transit is, when someone needs me to do one more thing at the end of the day, I can undock my laptop and go get on the bus and do the one more thing without having to stay," Sirk says. "The bus allows you to work on your way home."
Sirk finds many other things to love about the GoTriangle routes that get her to her job in downtown Raleigh and back home to Cary, the helpful drivers among them.
"Your GoTriangle drivers are terrific," she says. "We have a new guy on the 305, and he knows when people get off the bus. He says, 'Isn't this your stop? Shouldn't you be getting off here?' He's such a sweetie. On the 105, there are visually impaired people with canes and dogs. And the driver always makes sure they all could get across the street safely. Your drivers are awesome. They care. They do."