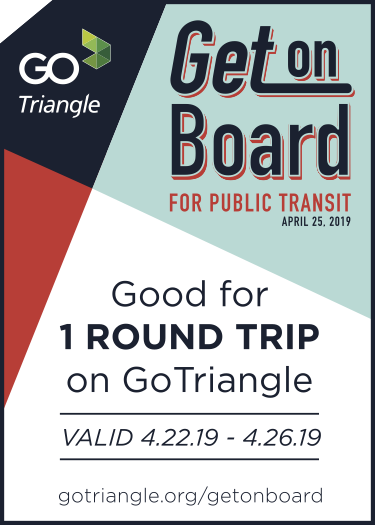 Get on Board Day is a national awareness and advocacy day that is all about encouraging people to support public transportation and showcases the benefits it brings to communities. 
GoTriangle wants to make it easy for you to give transit a try by offering you a free pass for a one-time round trip anytime between Monday, April 22 – Friday, April 26.
Download your free GoTriangle pass
*There are two ways to use the pass: Show a printed version to your driver or Pull up the pass on your phone. If you use a printed copy, keep it for the return trip.

Economic Opportunities

a Better Environment

a Safer Way to Travel

Reduced Gasoline Consumption
Saving Money

Enhanced Personal Opportunities
Get Started with Public Transit
Public transportation transforms communities and the lives of the people living in them by spurring economic development, promoting sustainable lifestyles and providing a higher quality of life. Every segment of American society— individuals, families, communities, and businesses—benefits from public transportation.
When you are ready to ride transit for the first time, follow these easy steps:
Check out our online Ride Guide or watch the video below
Use the Trip Planner to find your commute route
Check out Maps & Schedules to get your route map and Fares & Passes to learn how to pay fare.
Download the TransLoc Rider app to see your bus arriving in real time
Don't forget to get to your stop 5-10 minutes early - and enjoy the ride!
Quick Facts on Public Transit
In 2017, Americans took 10.1 billion trips on public transportation.
34 million times each weekday, people board public transportation.
6,800 organizations provide public transportation in the United States.
Every $1 invested in public transportation generates approximately $4 in economic returns, powering community growth and revitalization. 
Every $1 billion invested in public transportation supports and creates more than 50,000 jobs.
Traveling by public transportation is 10 times safer per mile than traveling by automobile.
A household can save nearly $10,000 by taking public transportation and living with one less car.
Public transportation's overall effects save the United States 4.2 billion gallons of gasoline annually.
Communities that invest in public transit reduce the nation's carbon emissions by 37 million metric tons annually.
Public transportation provides personal mobility and freedom for people from every walk of life.