It's impossible not to break into a grin when you're talking to Ernest Shannon even when the discussion revolves around such weighty matters as his doctoral thesis on post-traumatic stress disorder among homeless veterans in Wake County or his upcoming mission trip to help Rwandans hurt by genocide.
GoTriangle's lead morning bus supervisor, Shannon has an infectious laugh that peals out as he reflects on the strange turns his life takes – such as his upcoming 16-hour flight to Rwanda.
"I've never been out of the country," he says, laughing, even as he confesses to a fear of flying. "I've never been on a plane ride more than two hours, so this will be an interesting 16 hours. We're going from Dulles airport to Addis Ababa airport in Ethiopia to Kigali, Rwanda, and on the way back from Rwanda, to Dublin to Dulles. And I've never been to Ireland. I always tell people, 'My last name is Shannon – I'm Irish – I'm from the south side!"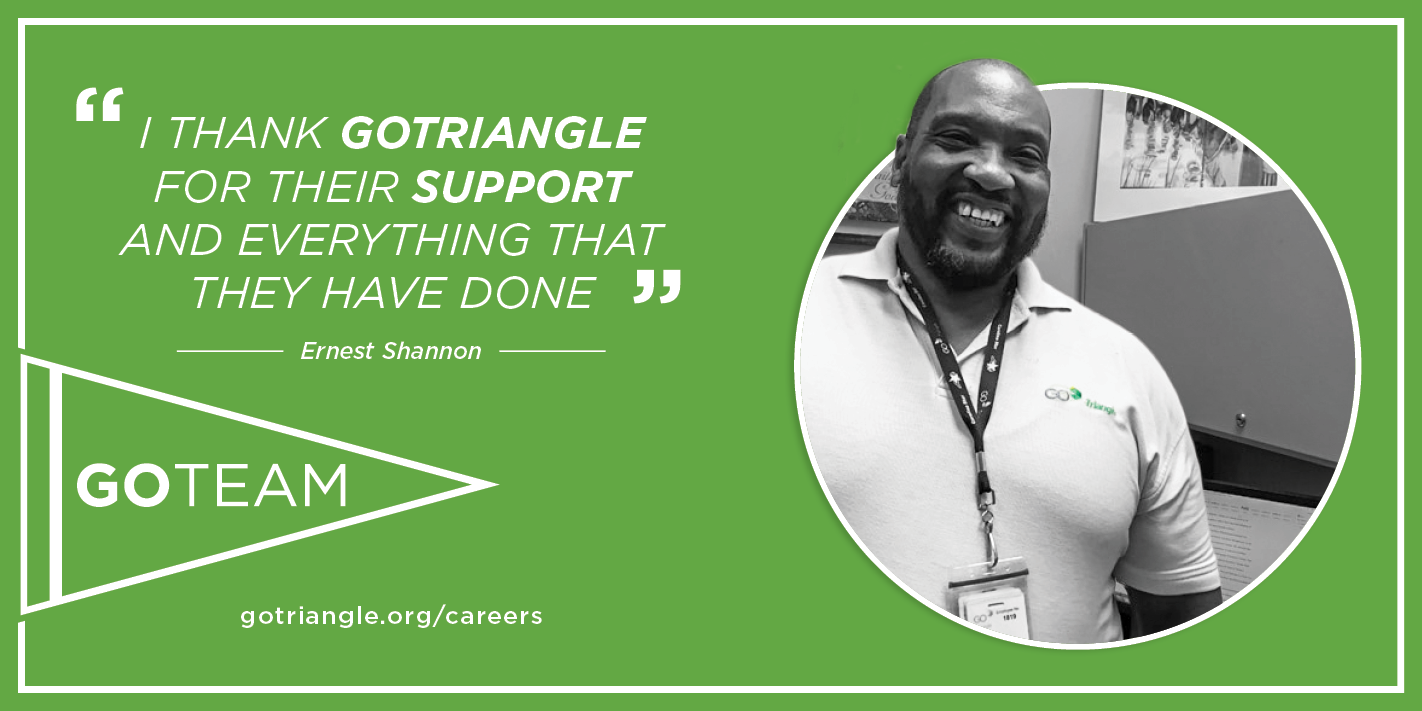 In February, Shannon successfully defended his thesis, and he is looking forward to graduating this May from Liberty University in Lynchburg, Virginia, with a doctorate in ministry and pastoral counseling. His thesis describes Joshua's Conquest, a program he designed to help military veterans heal "spiritual" wounds created during wartime, and Joshua's House, a center where they can live while the program helps them heal. He got the idea to create the program while working at GoTriangle after encountering a homeless veteran with PTSD at the Regional Transit Center in Durham.
Shannon saw a need and jumped in to help, says Al Sarno, an associate professor in Liberty University's department of Community Care and Counseling who chaired Shannon's thesis committee. "His approach was most groundbreaking and successful in implementing the approach and care for homeless veterans who were willing to take part in his program design," he says. "I see great things on the horizon for Dr. Shannon and his continuing work in treating homeless veterans with overcoming PTSD, moral injury, shame and spiritual injury."
Shannon hopes to secure government funding for Joshua's House and Conquest by September 2020. In the meantime, he is preparing for the March 7-16 mission trip with a group of Liberty University students and professors who are going to help women and children hurt during the genocide that took place in Rwanda in 1994. The students have all taken an evangelism class to help them understand the history and culture of Rwanda ahead of visiting with widows, hosting a vacation Bible school at an orphanage and training local pastors at a university.
Shannon's doctoral degree is a testament to his perseverance and stamina. He gained his degree while working the 5 a.m. to 2 p.m. lead bus supervisor shift at GoTriangle, where his job is to keep buses running on schedule and customers happy.  He makes light of his work-school schedule with another joke: "I want to tell [CEO] Jeff Mann, I'm still maintaining a 3.9 grade point average," he says, laughing. "Tell him I couldn't get a 4.0 because I had to be to work at 5 o'clock in the morning!"
Shannon did the research for his thesis by walking the streets of Wake County to find and interview homeless veterans on Saturdays, and he spent his vacation days from work writing his thesis. He says he's grateful to people who helped him along the way as he worked and studied.
"I thank GoTriangle for their support and everything that they have done – allowing me to have the vacation time to finish my thesis and encouraging me with going down and walking the streets," he says. "This is where it all began by interaction with a homeless veteran here."
Whether GoTriangle team members are operating a bus, planning the routes, working on carburetors or computers or getting the word out about all of the benefits of transit, each person plays a critical role in how well we serve our community. Join Ernest at GoTriangle with a career that works for you. Learn more at gotriangle.org/careers.