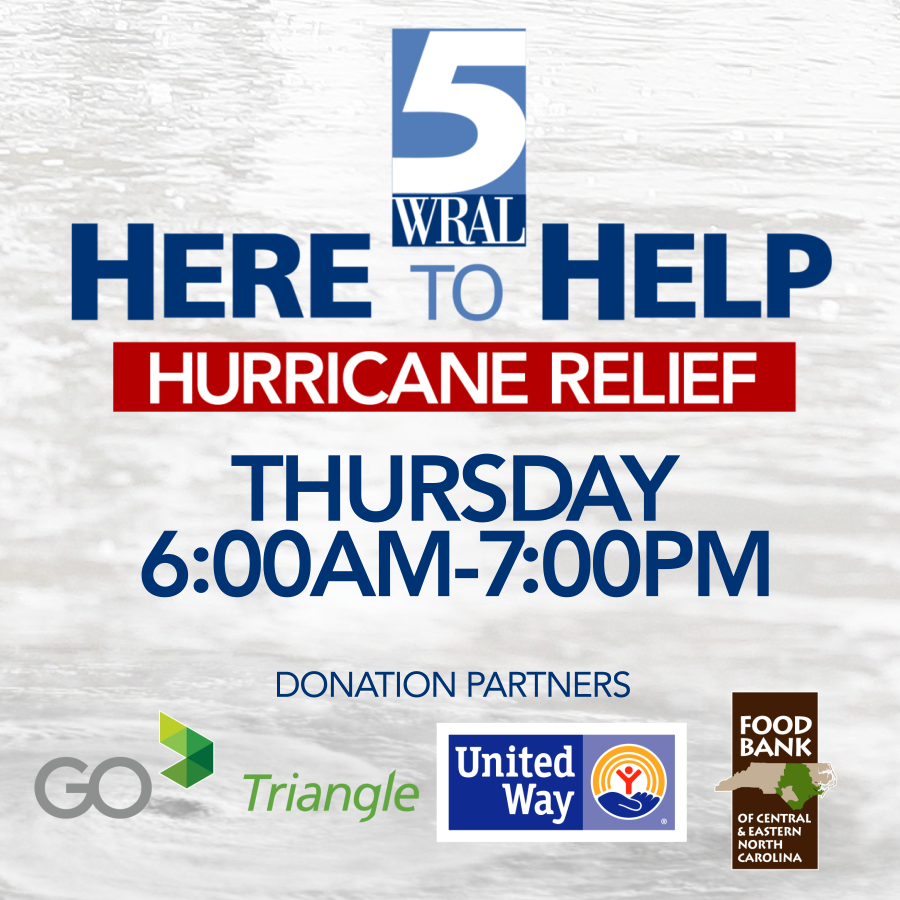 The fortunate North Carolina residents who don't need the canned food and other supplies they stockpiled before Hurricane Florence came ashore Friday now have a chance to help their neighbors in devastated parts of the state by donating those items and more to the Here to Help Hurricane Relief effort.  
WRAL-TV and partners United Ways of North Carolina and the Greater Triangle, the Food Bank of Central & Eastern North Carolina, GoTriangle and NC State University will offer a collection drive that includes a phone-bank fundraiser Wednesday and drop-off opportunities at two locations Thursday.
"The devastating impact of Hurricane Florence is just beginning to be understood, and we know it will take months for our friends and neighbors to repair, rebuild and restock what they've lost," says Food Bank President and CEO Peter Werbicki. "We're thankful for the generosity and dedication of this community and our partners jumping into action to begin serving people. These donations will allow us to support communities for as long as needed."
On Wednesday from 4 to 7 p.m., WRAL will be on-air offering viewers a chance to call in and make critical monetary donations to support our neighbors in need.
"When storms like Florence hit our area, one of our greatest responsibilities as a news organization is to cover the event, but at WRAL we believe we have an equally important responsibility to help our neighbors in whatever way we can," says Joel Davis, vice president and general manager of WRAL-TV and Fox 50. "For the Here to Help Hurricane Relief drive, by joining forces with outstanding community partners, we can aid people who need it most. We know that our viewers have huge hearts, and this is one way we can work together to make a difference. WRAL, FOX 50 and all of Capitol Broadcasting are not only 'here to help' but committed to standing with our neighbors and friends in times of need."
On Thursday from 6 a.m. to 7 p.m.:
The Food Bank will collect donations at its Raleigh facility at 1924 Capital Blvd. to create emergency household boxes that will be delivered to its branches in affected counties.
At Carter-Finley Stadium inside Gate A off Trinity Road in Raleigh, GoTriangle will lead the Hurricane Relief Bus effort with help from NC State and the United Way to fill buses with donated items, with plans to drive them to United Way branches in some of the hardest hit areas as soon as it's safe. GoDurham also plans to provide a bus.
"Our neighbors to the east are hurting, they've lost so much and they are in great need of basics just to keep going," GoTriangle Director of Communications Mike Charbonneau says. "We've seen the power of partnership and generosity in our community make a significant and immediate impact after other hurricanes, and we know together we'll fill our buses quickly again and get critical supplies to families who are struggling after this storm."
For the supply drives, the agencies are seeking, among other items:
Cleaning supplies
Toiletries
Paper products
Canned and dried foods
Diapers
Baby wipes
Formula
Nutritional shakes and drinks
For a fuller list of suggested donations, please see gotriangle.org/weather.
"Our hearts go out to our neighbors around the state who have been most impacted by this hurricane, and we can only imagine what they are going through as they assess the damage and loss and begin the process of rebuilding," says Eric Guckian, CEO of United Way of the Greater Triangle. "We know that the Triangle community is extremely generous and is ready and willing to help. We are honored to partner with WRAL and GoTriangle in order to marshal supplies and other resources to the communities in greatest need."
---
About United Way of the Greater Triangle
United Way of the Greater Triangle's mission is to eradicate poverty and increase social mobility through the power of partnerships. We serve Durham, Johnston, Orange and Wake counties.
In the past year, over 800,000 services were provided through United Way of the Greater Triangle's investment in 85 agencies and 17 collaborative partnerships of agencies providing wrap-around services and a holistic approach to uplift families into higher economic circumstances. Our funding is made possible by the generosity of over 300 corporate partners and 20,000 individual donors. Beyond funding, we mobilized over 6,600 volunteers to support the important work of our agencies and build a better community for us all. unitedwaytriangle.org.
About the Food Bank of Central & Eastern North Carolina
The Food Bank of Central & Eastern North Carolina is a nonprofit organization that has provided food for people at risk of hunger in 34 counties in central and Eastern North Carolina for more than 35 years. The Food Bank serves a network of more than 800 partner agencies such as soup kitchens, food pantries, shelters, and programs for children and adults through warehouses in Durham, Greenville, New Bern, Raleigh, the Sandhills (Southern Pines) and Wilmington. In fiscal year 2017-2018, the Food Bank distributed nearly 70 million pounds of food (over half of which was perishable) and non-food essentials through these agencies. foodbankcenc.org.
About WRAL-TV's parent company
Capitol Broadcasting Company, Inc. is a diversified communications company which owns and/or operates WRAL-TV, WRAL Digital, WRAZ-TV, WRAZ Digital, WRAL-FM, WRAL-HD2, WCMC-FM, WCMC-HD1, WDNC-AM, WCMC-HD2, WCMC-HD3, WCLY-AM, WCMC-HD4, Microspace, CBC New Media Group and Wolfpack Sports Properties (a joint venture with Learfield) in Raleigh; WILM-TV, WILT-LD and Sunrise Broadcasting in Wilmington; The Durham Bulls Baseball Club, Bull City Hospitality and Bull Durham Beer Co., and the American Underground startup hub in Durham; and real estate interests including the American Tobacco Historic District in Durham and Rocky Mount Mills in Rocky Mount; and Professional Builders Supply (an equity partnership) in Morrisville.
About GoTriangle
GoTriangle provides public transportation in a region that is experiencing rapid growth and demographic change. We have been entrusted by the public to deliver the highest quality services and infrastructure to match increased community expectations regarding public transportation.
GoTriangle operates regional bus and shuttle service, paratransit services, ridematching and vanpools; provides commuter resources and an emergency ride home program; and is home to the GoTriangle Regional Information Call Center for the Raleigh-Durham-Chapel Hill area including Apex, Cary, Chapel Hill, Durham, Garner, Hillsborough, Knightdale, RDU International Airport, Raleigh, the Research Triangle Park, Wendell, Wake Forest and Zebulon.
After Hurricane Matthew hit North Carolina in 2016, GoTriangle similarly worked with other Triangle partners to coordinate a relief effort. View a video of the Storm Relief Bus here.