Congressman David Price speaks at a ceremony at Raleigh Union Station to debut GoTriangle's new electric buses.
Research Triangle Park, NC (Jan. 7, 2020) – GoTriangle showed off one of its two new electric buses Tuesday during a ceremony in downtown Raleigh.
The buses, built by Proterra, were ordered after GoTriangle won a $943,000 federal low- or no-emission grant to help pay for them. Duke Energy provided $100,000 toward two charging stations as well.
"With new electric buses rolling through North Carolina, GoTriangle showcases its commitment to sustainability and the promise of innovative partnerships in transportation," says U.S. Rep. David Price of North Carolina. "As chairman of the House appropriations subcommittee responsible for transit funding, I've increased federal resources for programs like Low-No Emission Grants that help GoTriangle and other transit agencies across the country provide better service, reduce long-term maintenance costs and protect our environment. It's exciting to see these improvements right here in North Carolina as GoTriangle, Duke Energy, Proterra and other partners join together to improve mobility in our region."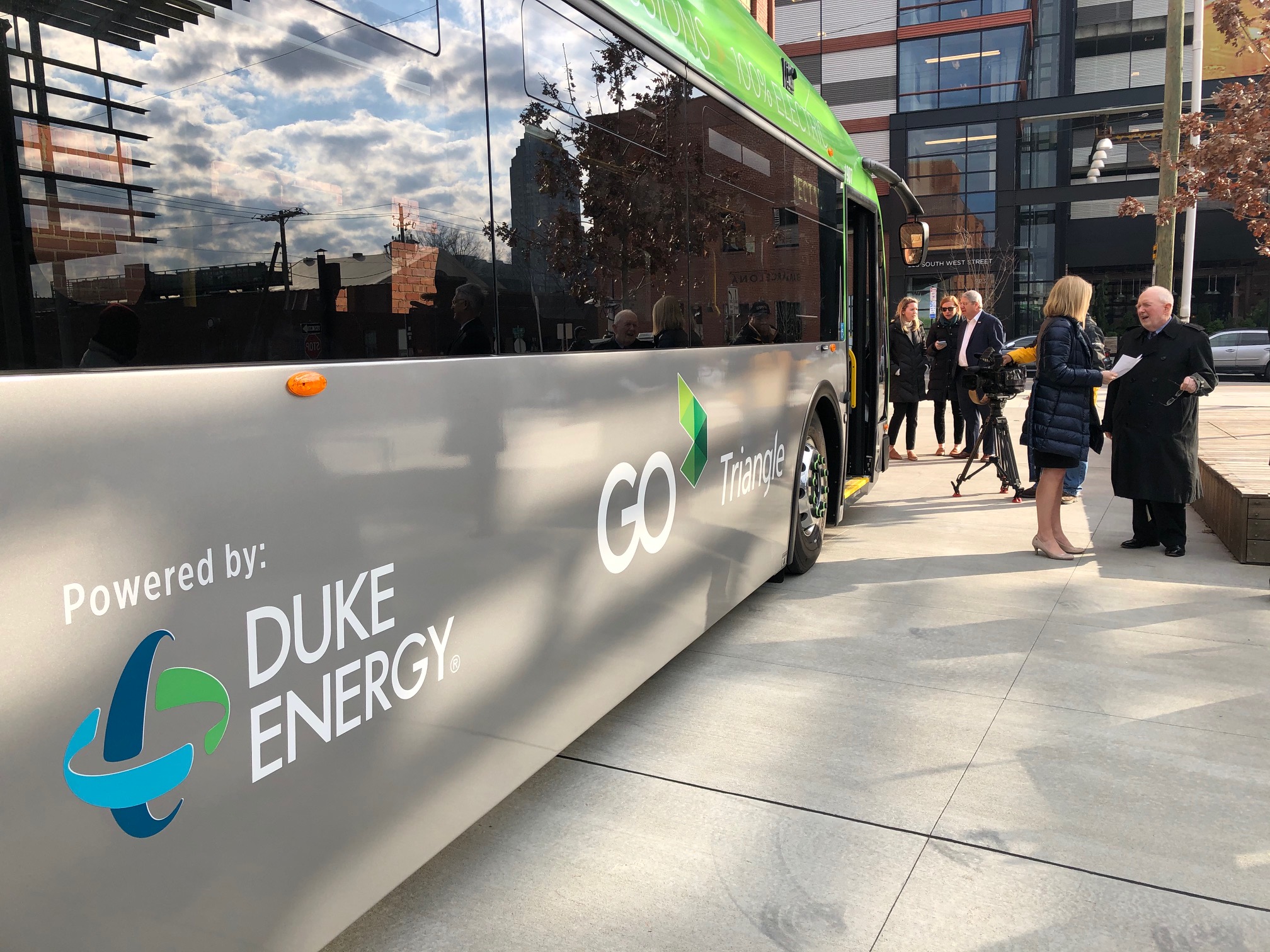 Raleigh-Durham International Airport is the only other Triangle entity that has electric buses, which produce no tailpipe emissions. GoRaleigh has five on the way.
Electric buses can cost between $300,000 to $450,000 more than a diesel bus when charging stations and other needed equipment are included, but the operating cost over the lifespan of an electric bus is $250,000 to $400,000 less than a diesel bus.
"Duke Energy strongly supports the electrification of the transportation sector in North Carolina," says Lang Reynolds, director of Electrification Strategy at Duke Energy. "We're pleased transit agencies like GoTriangle are embracing that philosophy – working to reduce tailpipe emissions on our highways on a daily basis."
GoTriangle expects to spend a few weeks training bus operators and mechanics on the electric buses before adding them to its fleet of 74 buses, which carry about 7,000 passengers a day on 13 regional routes and seven express routes.
"We've heard from our customers over the past few years that they really wanted GoTriangle to explore using alternative-energy buses, and we are thrilled to have our first two electric buses nearly ready to go," says Shelley Blake Curran, GoTriangle's interim CEO and president. "Being more environmentally friendly is just one more way we can better serve our growing region."
The ceremony took place at Raleigh Union Station, next to the property that will house GoTriangle's Raleigh Union Station Bus Facility. GoTriangle is negotiating with Raleigh real estate developer Hoffman & Associates to build the street-level bus transfer station with mixed-use development above it.
The two facilities together will create a transit hub that allows people to board a train – such as Amtrak – and then ride a GoTriangle or GoRaleigh bus to get to their final destinations. The GoTriangle building – which could reach up to 40 stories – would include market-rate and affordable housing options, office and retail space, and perhaps a hotel. If negotiations yield a signed contract, construction would start later this year. The project is a collaborative venture that would be funded through a $20 million federal grant that GoTriangle won in 2018 and state, Wake transit and other local and private funds.
GoTriangle plans to run the electric buses on every route. The buses travel 21.4 mpg-equivalent at 19 cents a mile. By comparison, a diesel bus gets 3.86 mpg at 84 cents per mile.
Proterra, whose East Coast manufacturing is based in Greenville, South Carolina, is a leader in the design and manufacture of battery-electric transit buses and currently has more than 100 customers across North America. Proterra products are designed, engineered and manufactured in America, and more than 75 percent of the bus components are sourced from the U.S.
"Proterra's electric transit buses will help GoTriangle meet its sustainability goals and deliver clean, quiet transportation to the community," says Proterra CEO Ryan Popple. "Electric buses help transit agencies reduce greenhouse gas emissions, eliminate fossil fuel dependency and reduce costs, while offering superior vehicle performance."
The federal Low or No Emission Competitive Grant Program provides money so state and local governmental authorities can buy or lease zero-emission and low-emission transit buses. The money also can go toward acquiring, building or leasing supporting facilities.
Reporters: Please consider this permission to use any photo or video assets you find here.