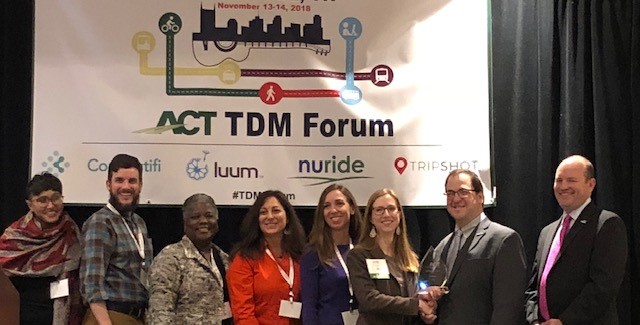 Research Triangle Park, NC (Nov. 19, 2018) – GoTriangle's Transportation Demand Management team has won the national Excellence Award for Transit from the Association for Commuter Transportation.
GoTriangle provides public transportation in a region that is experiencing rapid growth and demographic change. The agency has been entrusted by the public to deliver the highest quality services and infrastructure to match increased community expectations regarding public transportation.  In addition, GoTriangle operates regional bus and shuttle service, paratransit services, ridematching for carpools and vanpools and provides commuter resources and an emergency ride home program. 
With no state or local ordinances requiring trip reduction or provision of transportation-demand management at work sites, all participation in GoTriangle's transportation demand management and commuter programs is voluntary. However, the TDM department is charged by the General Assembly to decrease the rate of growth in vehicle miles traveled, and GoTriangle and its partners have exceeded goals by 100 percent for the past seven fiscal years.
"We couldn't be more proud that our efforts in the Triangle have received this national recognition," says Shelly Parker, GoTriangle's Sustainable Travel Services manager. "Through the outreach of our TDM Partners, we have 160 employers participating in our regional employer transportation-demand management program representing 158,000 employees. We also help employers manage parking demand and surveys. More than 14,000 employees participated in our 2017 commuting surveys, and our GoPass program saw a 6 percent increase in boardings on GoTriangle and a 10 percent increase on GoDurham. We can't wait to see how we can improve participation across the board in the coming year."
GoTriangle's transportation demand program is provided by GoTriangle staff and partners at City of Durham, City of Raleigh, Duke University, NC Central University, Orange County, Research Triangle Park, Town of Cary, Town of Chapel Hill, NC State University, UNC-Chapel Hill and Wake Technical Community College. All services are provided free through grants from NCDOT, federal and local funds.
For more information about free commuter consulting services that GoTriangle offers employers, please see gotriangle.org/employer-services. Individuals can explore commuting alternatives at Share the Ride NC.