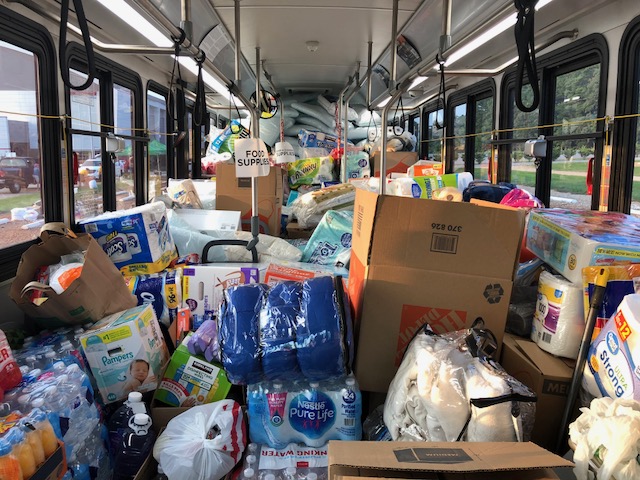 Research Triangle Park, NC (Sept. 21, 2018) – The first car arrived at the Hurricane Relief Bus event Thursday at 5:58 a.m., and by the end of the donation drive at 7 p.m., scores of generous Triangle residents had dropped off enough supplies for their North Carolina neighbors reeling from Hurricane Florence to fill five buses, three vans, a box truck and part of a tractor-trailer.
The donation drive held at Carter-Finley Stadium was led by GoTriangle and was part of a larger Here to Help: Hurricane Relief effort orchestrated by WRAL-TV that also included the United Ways of North Carolina and the Greater Triangle, the Food Bank of Central & Eastern North Carolina, GoDurham, Alliance Behavioral Healthcare and NC State University.
Current plans call for the supplies to be delivered Tuesday to United Way branches in Lumberton and Newport. Deliveries to Wilmington also are planned as soon as safe routes are available.
"Just the supplies on the five buses represent about 60,000 pounds of precious cargo that we'll be sending to two of the most devastated areas of our state," says Jeff Mann, GoTriangle CEO and president. "I couldn't be more proud of how our community came together for this event and of how hard GoTriangle staff members and our partners worked to pull it off. Thank you just doesn't seem like enough to say."
On an 87-degree day, vehicle after vehicle pulled up and volunteers unloaded hundreds of pounds of water, canned food, diapers and more.
Ashley Corra and Seth Lamkin of Durham were two of the first to arrive, their car full of canned meals, diapers, wipes, paper plates and granola bars.
"We just wanted to help," Corra says. "It seemed like the very least we could do. We just want them to know the people in the state and all around the country are thinking of you. Stay strong."
Several people drove in with cars full of donations they had collected from their offices, churches or schools. Employees of the N.C. Turnpike Authority were among those.
"It's important for us to be there for our neighbors in North Carolina," says Angela Queenland, manager of customer service for the authority. "Before Wednesday, this could have been us. It can always be you, so we always want to support those affected. Everything we take for granted every day these people are now without."
The United Way of the Greater Triangle and the Food Bank of Central & Eastern North Carolina are continuing to take monetary donations for Hurricane Florence relief efforts through their websites: foodbankcenc.org and unitedwaytriangle.org.
"We're all about the power of partnerships, and this is the perfect time for people to come together, to convene and get help where it needs to go," says Emily Page, the United Way agency's chief talent officer. "Imagine if your house were underwater. Wouldn't you want people to come to you?"
Another chance to donate
On Sept. 29, GoTriangle and NC State University will continue their hurricane-relief partnership as the transit agency donates buses and operators for the NCSU athletics department's own donation drive. NC State is planning to ask fans to fill the buses at its 12:20 p.m. football game against the University of Virginia that day.  
"When a state is hit like this, it's one state, and when people are really hurting, we all want to help," Mann says. "It's not an easy task to get our buses where they're going to need to go, but what's important isn't always easy."
During the Hurricane Relief Bus event Thursday, two buses were full before noon, and only the crannies were left on the rest by 4:30 p.m. As dusk began to settle less than three hours later, three vans and a box truck were jam-packed and supplies were being loaded into a Food Lion tractor-trailer.
Memories of the devastation Hurricane Fran brought to the Triangle in 1996 motivated Rebecca Eagles of Raleigh to contribute.
"You know how scary it is, even terrifying," she says. "I live in the middle of Raleigh where all the trees fell, and we were trapped for days. I know what it's like to stand in line at a grocery store for bread. I just had to help."