Research Triangle Park, NC (May 9, 2019) – As the Carolina Hurricanes have advanced in the Stanley Cup playoffs, the team's #stormsurge has advanced to the corner of Lane and Harrington streets in downtown Raleigh as well.
To support the community and our home hockey team, GoTriangle has donated space on its building at that intersection to host a Carolina Hurricanes mural, which local artist Sean Kernick began painting this week as part of the Raleigh Murals Project.
"We could not be more excited about this joint partnership with the Hurricanes and the Raleigh Murals Project," says Mike Charbonneau, GoTriangle's chief communications officer. "Local artists and mural organizers wanted to work with the Hurricanes to produce a piece of downtown art to celebrate their great post-season run, and, as a strong community partner, GoTriangle is thrilled to be able to donate the wall space for the tribute."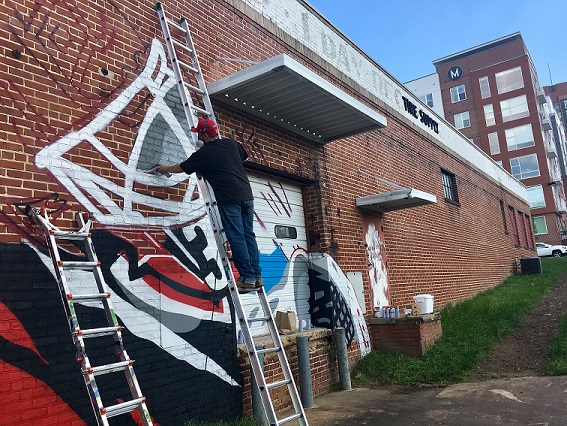 The Canes have arrived at the Eastern Conference finals by knocking off the defending Stanley Cup champion Washington Capitals in seven games in Round 1 and taking out the New York Islanders in four straight games in Round 2. They meet the Boston Bruins in Game 1 of the conference finals tonight at 8 in Boston.
"We're honored to work with the Raleigh Murals Project and truly appreciate GoTriangle's support in our efforts to expand the Carolina Hurricanes' footprint in the region," says Dan LaTorraca, director of digital marketing for the Carolina Hurricanes. "The organization is proud to showcase the creativity of local artists and leave our mark on the city that has shown us tremendous support."
Currently, GoTriangle and GoRaleigh use the mural building to store transit shelters and other bus amenities. GoTriangle is the Triangle's regional transit provider, connecting Orange, Durham and Wake counties with 22 routes. Find out more at gotriangle.org.
The Raleigh Murals Project is also in the business of connection, bringing together businesses and artists to make Raleigh colorful one surface at a time. Several years ago, Jedidiah Gant and JT Moore started posting online pictures of blank walls with the caption #putamuralhere, and this idea promoting city beautification grew into the murals project, which has worked with Vans, Truth, ACLU NC, Artsplosure, Trophy Brewing, Red Hat, Shaw University, Google Fiber, NCMA and now the Carolina Hurricanes.
"Over the past few weeks, you can feel the energy around the Canes' playoff run throughout the city, so when the team reached out to channel this energy into urban art, we jumped right into action to find a wall and an artist," Gant says. "We've never really done this large of a mural so quickly, but with a ton of community help and teamwork, this proves to be one of the defining pieces of artwork in an area of downtown Raleigh that is rapidly growing."
The project, which so far has coordinated about 60 installations, uses grants and other sources to pay the artists. The Canes have provided funding for this mural.