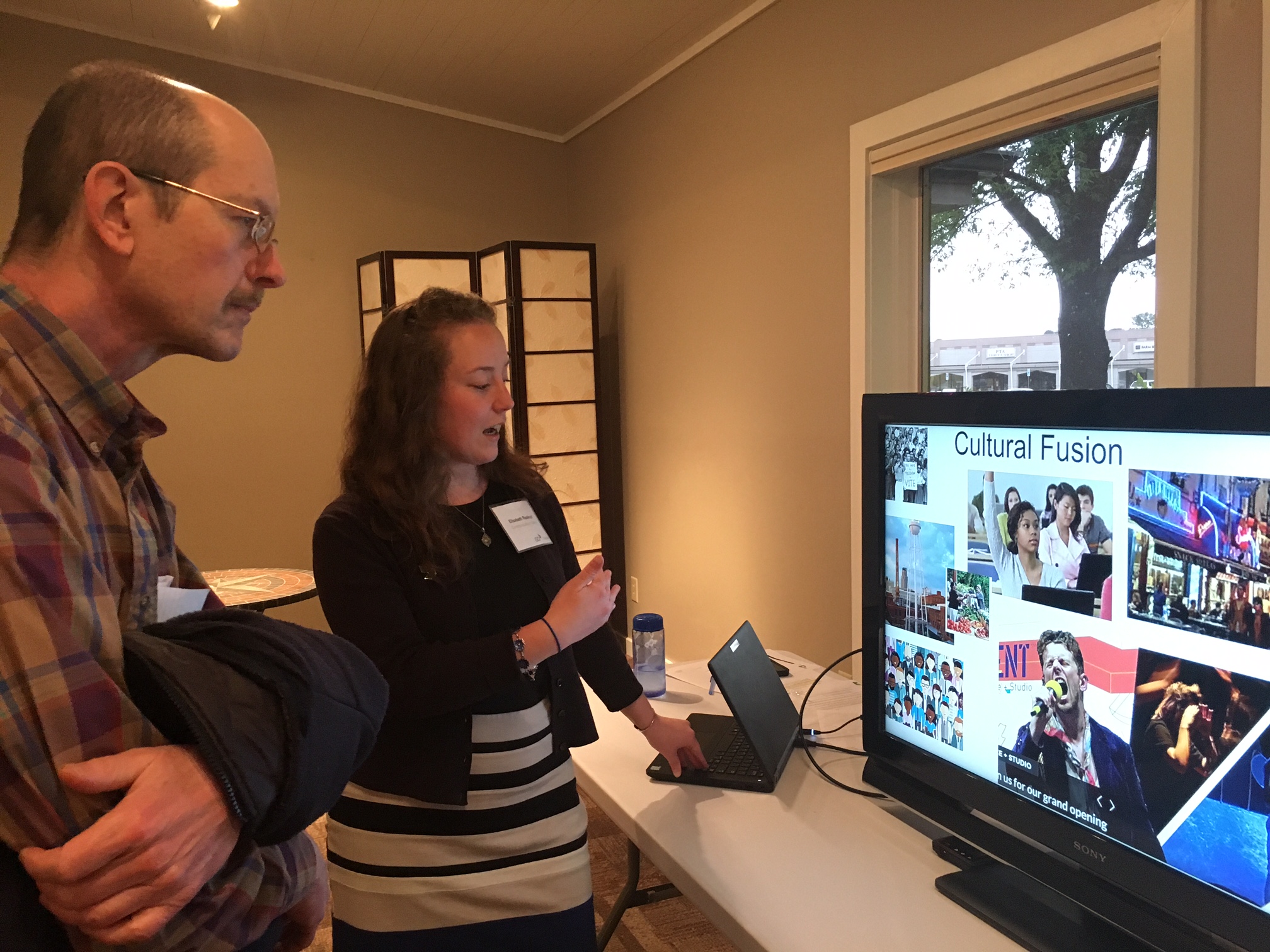 At least two dozen people had gathered around exhibits showing design plans for parts of Durham and Orange counties' light-rail project even before a GoTriangle open house at Extraordinary Ventures in Chapel Hill officially began at 6 p.m. Tuesday.
In an online workshop and two meetings in January and February, more than 200 people helped brainstorm design themes for project features such as station canopies, sidewalks and benches. On Tuesday, GoTriangle offered glimpses of the three themes that emerged: cultural diversity, natural heritage and research and innovation.
Tonight, the public has another chance to drop in and offer feedback on the designs between 6 and 8 p.m. at the Holton Career & Resource Center at 401 N. Driver St. in Durham.
Jenna Shouse, a UNC-Chapel Hill graduate student living in Cary, participated in the brainstorming meetings and showed up in Chapel Hill on Tuesday to check out the results.
"At the earlier meeting, our group got to talking about cultural heritage and came up with some really cool ideas, and I wondered how they would incorporate it," Shouse says as she eyes a display that includes pictures of the Durham Bulls, tobacco warehouses and UNC students. "They really did it. It is esoteric, but it's really cool how they brought those ideas to life."
The light-rail line, scheduled to begin construction in 2020 and to operate by 2028, will include 18 stops between UNC Hospitals in Chapel Hill and NC Central University in Durham. The project is one part of a regional transit initiative that will better connect residents in Wake, Orange and Durham counties to jobs, education and employment centers.
Chris Selby, a UNC-CH research instructor in biochemistry who lives in Durham, also participated in the brainstorming sessions and was eager Tuesday to see how designers transformed the ideas into sidewalk shapes, shelter-glass etchings and wind-screen materials.
"I'm impressed how they came up with these patterns and styles of things that convey the systematic nature of science and technology," he says as he peers more closely at the display on research and innovation. "My comment is it's kind of cold. It does convey what it seeks to convey, but it's cold. It needs vegetation or color to soften it up and make it more visually friendly."
At one open house station Tuesday that will be repeated Thursday, Geoff Green, a GIS specialist at GoTriangle, offered virtual tours of a light-rail stop in Charlotte, which opened its 9.6-mile Lynx route in 2007 and recently completed a 9.4-mile Blue Line extension.
"No one gets on a train just to go to a station," he says to about 10 meeting attendees. "We're working on connections, too, and bike share like you see here is one of those options."
He notes the flowered tiles at the base of the pillars holding up the canopy at Charlotte's Bland Street Station and explains that the flower theme is found throughout the station area's design. Even the metal handrails offer an opportunity for architectural flourish, he says.
He also points out the display showing riders when the next train will arrive, the ticket vending machine and the emergency call boxes, saying the Triangle's light-rail line will have these things, too.
"We'll have those ticket vending machines," he says. "But by the time our line opens up, there no doubt will be a variety of ways to pay your fares."
Dick Hails lives in Durham and spent 25 years in the city-county planning department there. Checking out the display on the natural heritage theme, he says he is counting on designers using the city's iconic red brick and natural tobacco colors in stations there.
"I have visited light rail around the country, and the ones that stand out are using natural materials," he says. "I remember visiting Portland when it opened the MAX, and they really had a budget for artwork at each station. Some stood out because they used local materials linked to the area's history and weren't just decorative."
Want to see the design themes but can't make it to the Durham meeting tonight? Through May 11, you can participate in our online public meeting at lightrailonline.com.
How did we arrive at the three themes?
The workshops earlier this year began with a brainstorming exercise:
What do we want to celebrate about this area's past?
What do we love about living here now?
What do we want to be able to celebrate in the future?
Small groups of people shared answers with each other on sticky notes and grouped common answers together. Then each small group presented a few of its best ideas to everyone at the workshop. When all of the small group ideas had been shared, participants voted for their favorites. Three strong themes emerged: cultural diversity, research and innovation, and natural heritage.
The project team's architects studied the input from the workshop and the ideas that were shared in the online meeting. They summarized the ideas into visual mood collages, one for each theme. These inspirational mood boards included textures, patterns, pictures and colors they created to capture the spirit of the input they received. Finally, the architects turned these visual summaries into patterns, colors and materials that can be used in the real-life stations they are designing now.