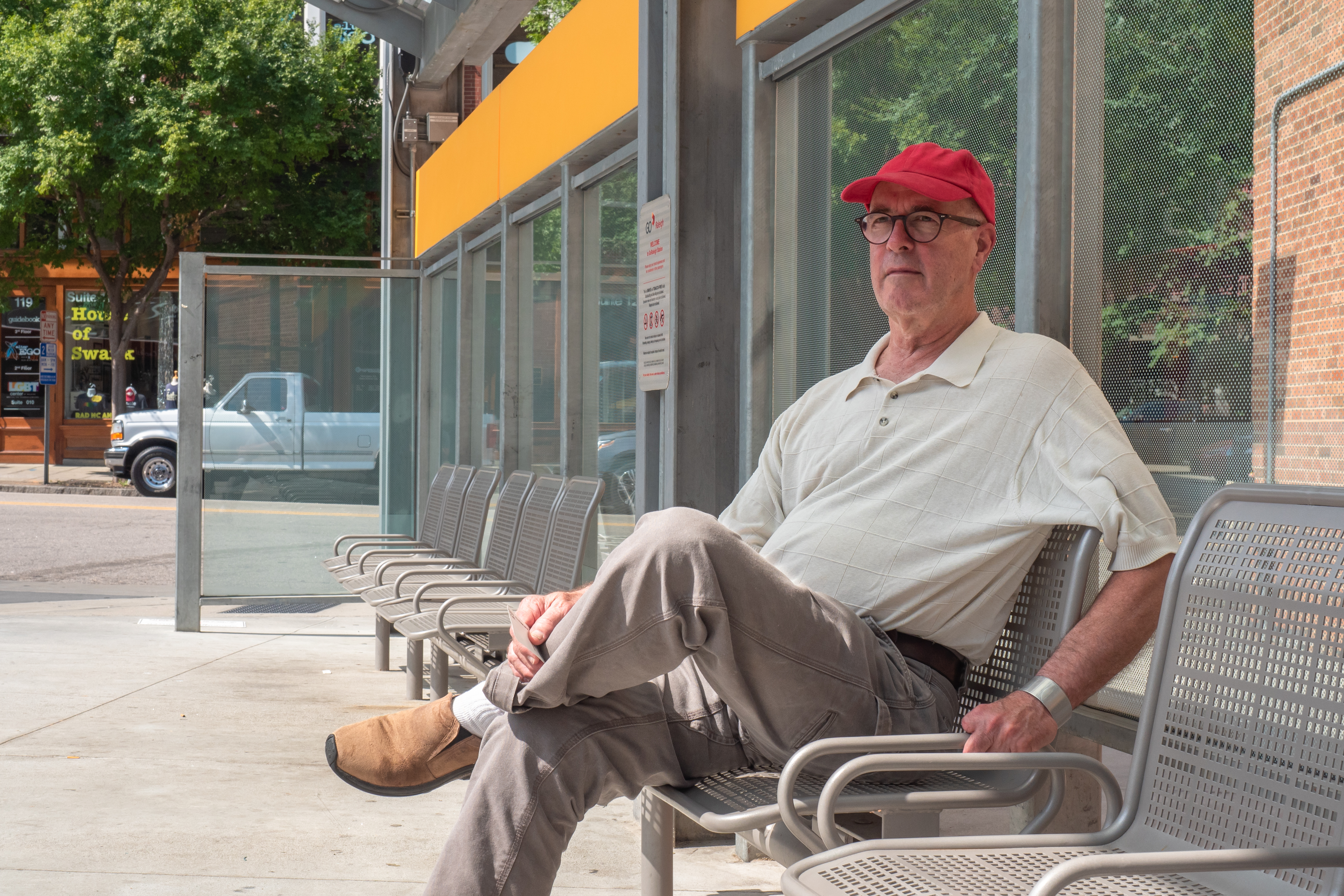 Research Triangle Park, NC (Aug. 14, 2019) – Added to the myriad practical reasons that Andrew Leager likes taking the bus to meet friends or run errands around the Triangle are four precious ones: Tripp, Henry, Weston and Ames.
It's the thought of his four grandchildren inheriting a planet we've polluted with our car-centric ways that primarily propels Leager, a 71-year-old Raleigh native, onto public transportation.
Now GoTriangle is reducing the cost of Leager's reducing his carbon footprint.
On Aug. 4, all customers 65 and older became eligible to ride all GoTriangle routes free simply by showing a photo ID with birthdate. The change means that members of that age group now can ride free on all transit agencies in the Triangle, although each agency has its own rules for boarding. 
"Continued access to all of the wonderful things in our community is critical to our older neighbors who maybe want to stop driving or limit their driving on our crowded roads," says Shelley Blake, GoTriangle's interim CEO and president. "GoTriangle is happy to be making it even easier for those 65 and up to get to health care appointments or restaurants or other places they want to see or visit."
Leager, an avid bicyclist, lives in a walkable part of downtown Raleigh and drives his truck only about half the time he travels. He has used public transit to get to North Hills to meet a friend for lunch, to Cary to enjoy a beer at a local pub and to Durham to keep a date with a woman he met online.
"My love of transit is multifaceted," says Leager, who has been an architect, an actor, a bar owner and a barrel-maker. "The bottom line is that I'm really concerned about my grandchildren's future world. If all of us drove our vehicles 50 percent less, just think of the saving of fossil fuels. I want to do my part to live in a world where we don't drive our cars as much."
'I love the bus ride'
For Leager, taking the bus is also about expanding and enjoying his world as it is.
From a window seat, he savors the view of his Raleigh community streaming by, and when he's lucky enough to hear a story from a fellow traveler, he finds his own life enriched.
"I love the bus ride," Leager says. "There's something to redeem it every time. When you're walking or riding, you see a rich world full of growing things and people out in their yards. Driving is a white-knuckle experience. There's just always some interesting people on the bus I would not have otherwise been exposed to. I do it for a sense of community as well."
Leager says he often sees people he knows on the bus and sometimes asks those he doesn't know to tell him about themselves. One of his favorite memories is of a 90-year-old woman who would work crossword puzzles on the bus as she headed to spend the day taking care of her 95-year-old sister.
"I never would have known this woman, never would have seen her if I hadn't taken the bus," Leager says. "But she had a story. So I got off the bus feeling, wow, I'm rich. I'm richer by having this conversation with this stranger in the protective confines of a bus."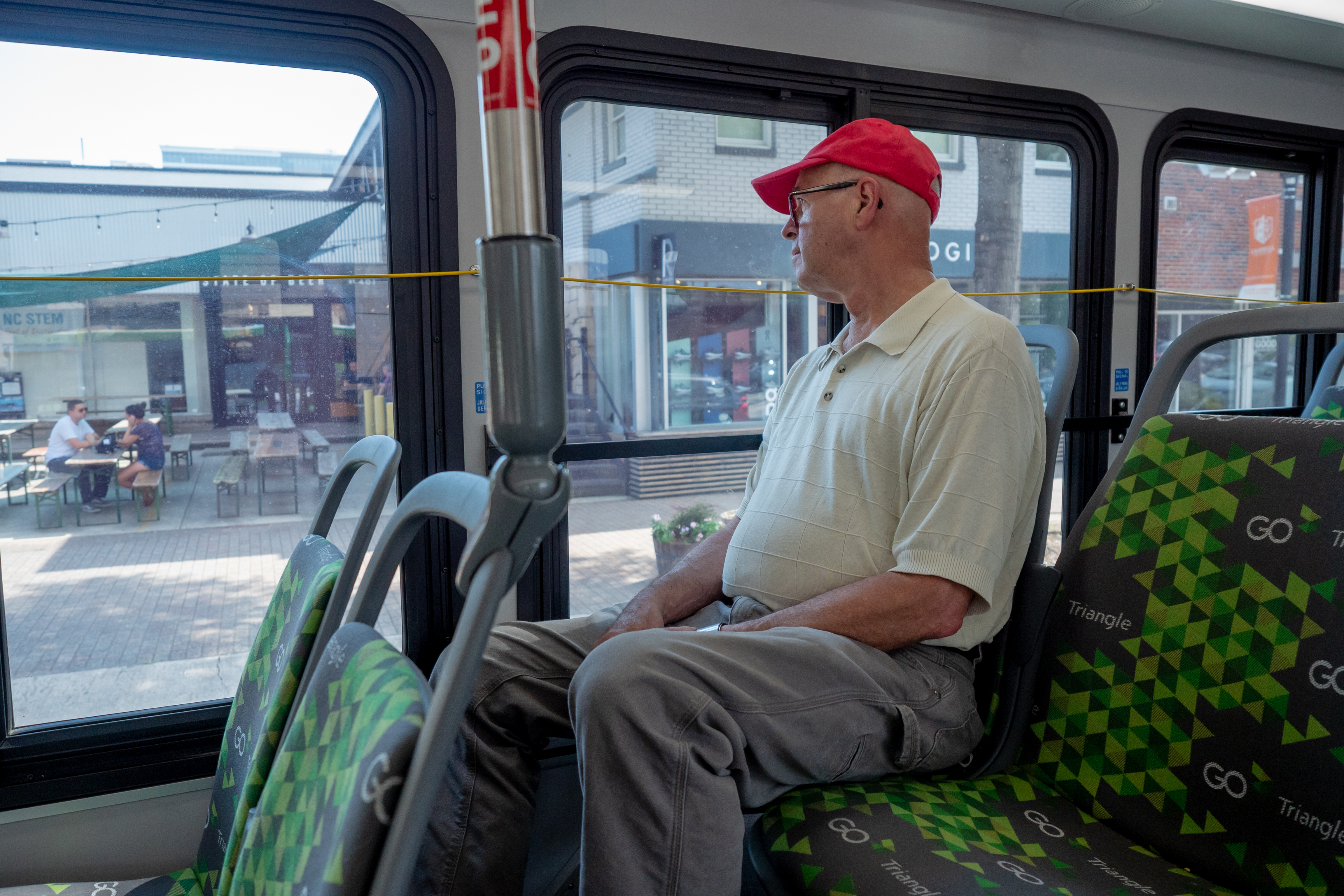 In 2016, those 65 or older made up about 15 percent of North Carolina's total population. That number is expected to increase 67 percent to about 21 percent of the total population by 2036, or to more than 2.6 million people.
In the Triangle, voters in Orange, Durham and Wake counties have chosen to invest a half-cent sales tax in transit improvements, and through their individual transit plans the counties are working together to create a more unified regional transit network. Each fiscal year, the counties roll out new service with more frequency to more places. Find more information about the plans at goforwardnc.com.
The free fare for those 65 and older is part of GoTriangle's fiscal year 2020 transit plan, which went into effect July 1. Among other improvements in the plan are the recently implemented GoTriangle Route 310, which serves Wake Tech's new Research Triangle Park campus, and a new express route in North Raleigh. The NRX travels Interstate 540 from a park-and-ride lot at Triangle Town Center to a park-and-ride lot at the corner of Falls of Neuse and Strickland roads on to the Regional Transit Center.
"It's exciting that just as we're making it free for older neighbors to ride buses, we're adding even more ways for everyone to get to more places," Blake says. "From the RTC, GoTriangle has routes to Chapel Hill and Durham and Cary, to the airport and to downtown Raleigh. Seniors who want to explore the Triangle can just get onto a bus to have lunch in Chapel Hill or see a movie in Durham or visit a museum in Raleigh and not have to worry about driving."
Too many cars, too much heat
Leager for one has been advocating building a unified public transit network in the Triangle since the 1980s, even serving six years on GoTriangle's first Board of Trustees beginning in 1989. 
"I was different from everybody else," he says. "There were all these business leaders and office holders on there. I was just a guy who wanted to have a good transit system. I thought it was a good solution to what was already a problem with too many cars and too much heat."
Too many people seem to think transit is for everybody else, he says.
 "They say, 'As long as I can drive my car, you can propose all the things you want.' 'As long as I don't have to drive my car any less, then I'm all for transit,' but that attitude's gotta go," Leager says. "We have some serious things to confront. We have to learn as a society how to build and use transit so we can embrace it and make it work for us."