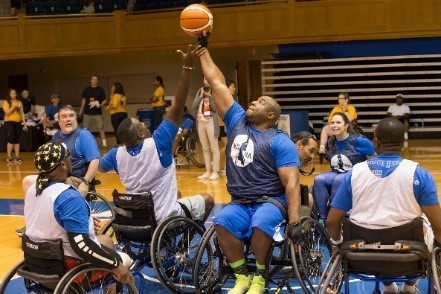 Research Triangle Park, NC (May 21, 2018) – Before the first volleyball is served, the first weight is lifted or the surest arrow is shot, the 100-plus athletes participating this week in the Valor Games Southeast 2018 have to get between their hotels and their sports venues in Chapel Hill, Durham and Raleigh.
Happy to be providing the 10 buses and operators needed for the three-day Paralympic event are GoTriangle, GoDurham and Chapel Hill Transit. Valor Games Southeast 2018, coordinated by the Durham nonprofit Bridge II Sports in conjunction with the Department of Veterans Affairs, will offer competition Tuesday through Thursday in 11 adapted sports to service members or veterans living with disabilities.
"Helping veterans is something we are proud to do," says Tammy Romain, GoTriangle's paratransit manager, noting that this is the sixth year in a row the transit agencies have participated. "I have a lot of veterans in my family and on our staff here, and this is our way to support what they have done for us."
In addition to powerlifting, archery and sitting volleyball, the games feature boccia ball, indoor rowing, air rifle, table tennis, wheelchair basketball, cycling, shotput and kayaking. Competitions are held at the Dean Smith Center at the University of North Carolina-Chapel Hill, Cameron Indoor Stadium at Duke University and Lake Crabtree County Park in Raleigh.
All of the events are free and open to the public. Find a schedule at bit.ly/vgse2018.         
Through the Valor Games Southeast, Bridge II Sports hopes to help those living with disabilities gain confidence. "A body and mind changed by injury needs the discipline and challenge of physical activity to stay healthy physically, mentally and emotionally," the group's website says. "It is the key to recovery, long-term health and re-integration into your community at home."
GoDurham is providing two paratransit vehicles and one regular bus, GoTriangle is donating two of each and Chapel Hill Transit the rest.
Of the 11 transit operators helping the athletes this year, only two have previously participated in the event, which is purposefully sandwiched between Armed Forces Day and Memorial Day.
Those operators are Ronald Parker, Phyllis Badgett, Cheryl Bass, Felicia Martin and Larry Villines from GoTriangle, Tony Combs, Michelle Sykes-Parker and James Bradsher from Chapel Hill Transit and Jackie Williams, Susan Williams and Kenneth Blount from GoDurham.
Assisting as supervisors or dispatchers will be Richard Roberts from Chapel Hill Transit and Patricia Hill, Angela Judge and Romain from GoTriangle.
"We are grateful for the collaboration among GoTriangle, GoDurham and Chapel Hill Transit joining forces to safely transport our veterans with disabilities to venues throughout the Triangle with dignity and respect," says Ashley Thomas, founder and executive director of Bridge II Sports. "This logistical piece is invaluable in providing a positive, empowering experience for our Valor Games Southeast athletes.  What a testament to what community can do!"
More than 730,000 military veterans lived in North Carolina in 2016, with more than 180,000 of them receiving disability payments. That's a 40,000 increase over 2015, when about 140,000 military veterans in North Carolina received some sort of disability compensation.
Read coverage of last year's Valor Games Southeast here or watch a video of the amazing service members and veterans in action here.
"This is something we do to give back to the community," Romain says. "That's what we're all about. Community service."