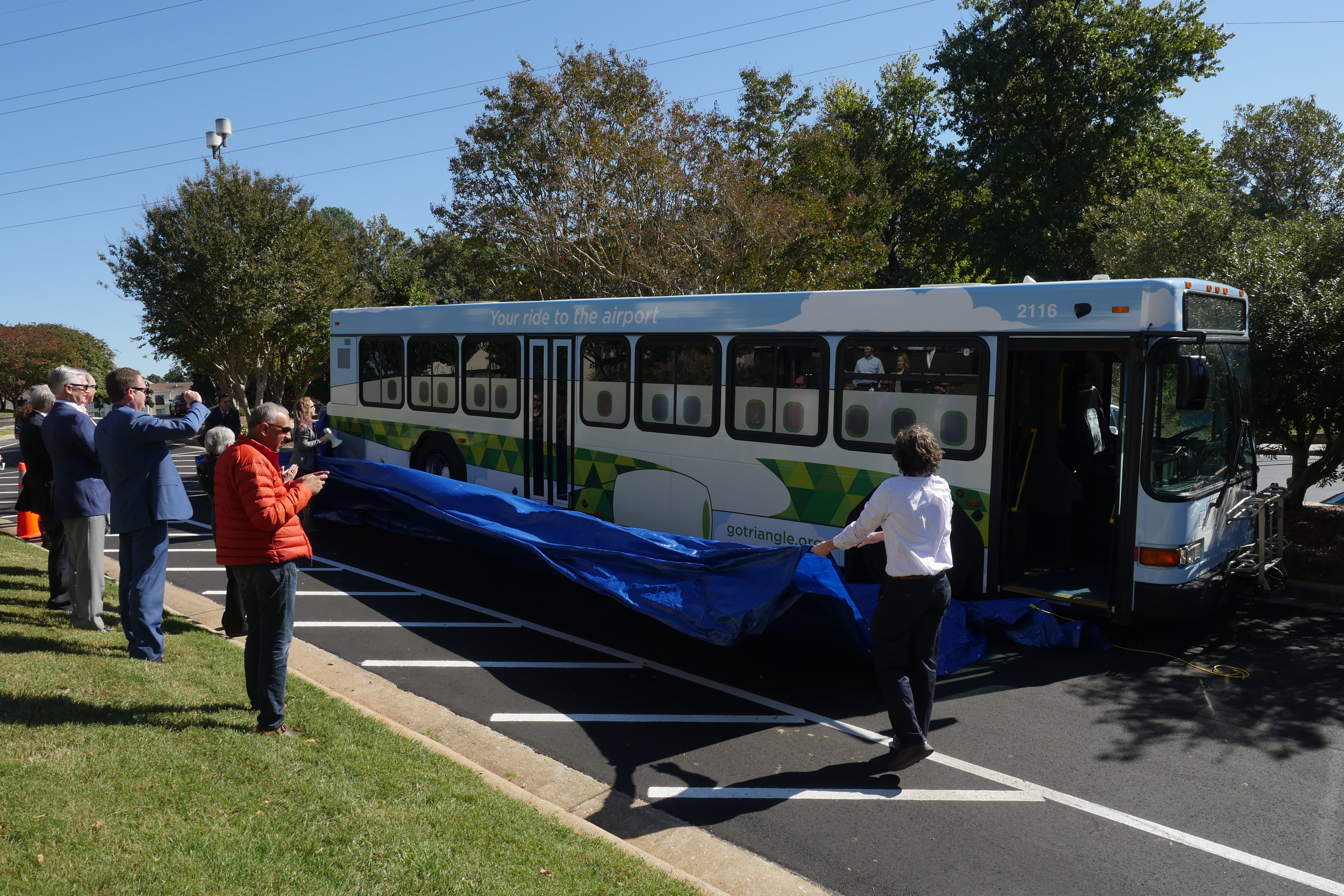 Research Triangle Park, NC (Oct. 24, 2018) – It's a bus. It's a plane. It's the super way GoTriangle is reminding the community that taking transit to Raleigh-Durham International Airport is already an easy option for travelers.
Every day, GoTriangle's Route 100 runs between the downtown GoRaleigh Station and the Regional Transit Center in Durham, stopping directly in front of both RDU terminals and several times near NC State University.
Now, two of the buses that travel Route 100 are disguised as airplanes, wrapped in a fun and clever rendering by GoTriangle's graphic designer Chris S. Clark.
"As we travel across the Triangle telling people about our community investment in transit, we often get asked about public transit options to the airport, so we wanted to find a new way to grab attention and let people know GoTriangle has your ride to the airport already," says Mike Charbonneau, GoTriangle's director of marketing and communications. "We identified two buses that were scheduled to be repainted anyway and decided to try a new design to help this new education campaign take off. We absolutely love how these turned out."
On Route 100, GoTriangle offers bus service every 30 minutes in peak hours starting at 6:10 a.m. Monday through Friday and at 6:40 a.m. on Saturdays and Sundays. Travelers from Raleigh have nearly 20 places to catch a bus between the GoRaleigh Station on Wilmington Street and RDU, including numerous stops along Hillsborough Street and one on Blue Ridge Road at the NC Fairgrounds. Travelers from the western Triangle can ride from the Regional Transit Center to the airport. To get to the RTC, Chapel Hill residents can take GoTriangle Route 800 and Durham residents can take Route 700.
Those who see one of the airport-themed buses and tweet a picture of it to @gotriangle and include the hashtag #yourridetordu or those who email a picture to sallen@gotriangle.org will be entered into a drawing for T-shirts next month.
To see whether taking Route 100 to RDU is a good option for you, please map your route at gotriangle.org. You also can check out details about Route 100 at gotriangle.org/100 or call 919-485-RIDE.
No need to worry about getting trapped in traffic on the way, either. GoTriangle's Bus on Shoulder System allows drivers to use the shoulders on Interstate 40 at low speeds to bypass congestion. Riding a Wi-Fi-equipped GoTriangle bus is easy – and easier on the wallet. A one-way fare is $2.25.