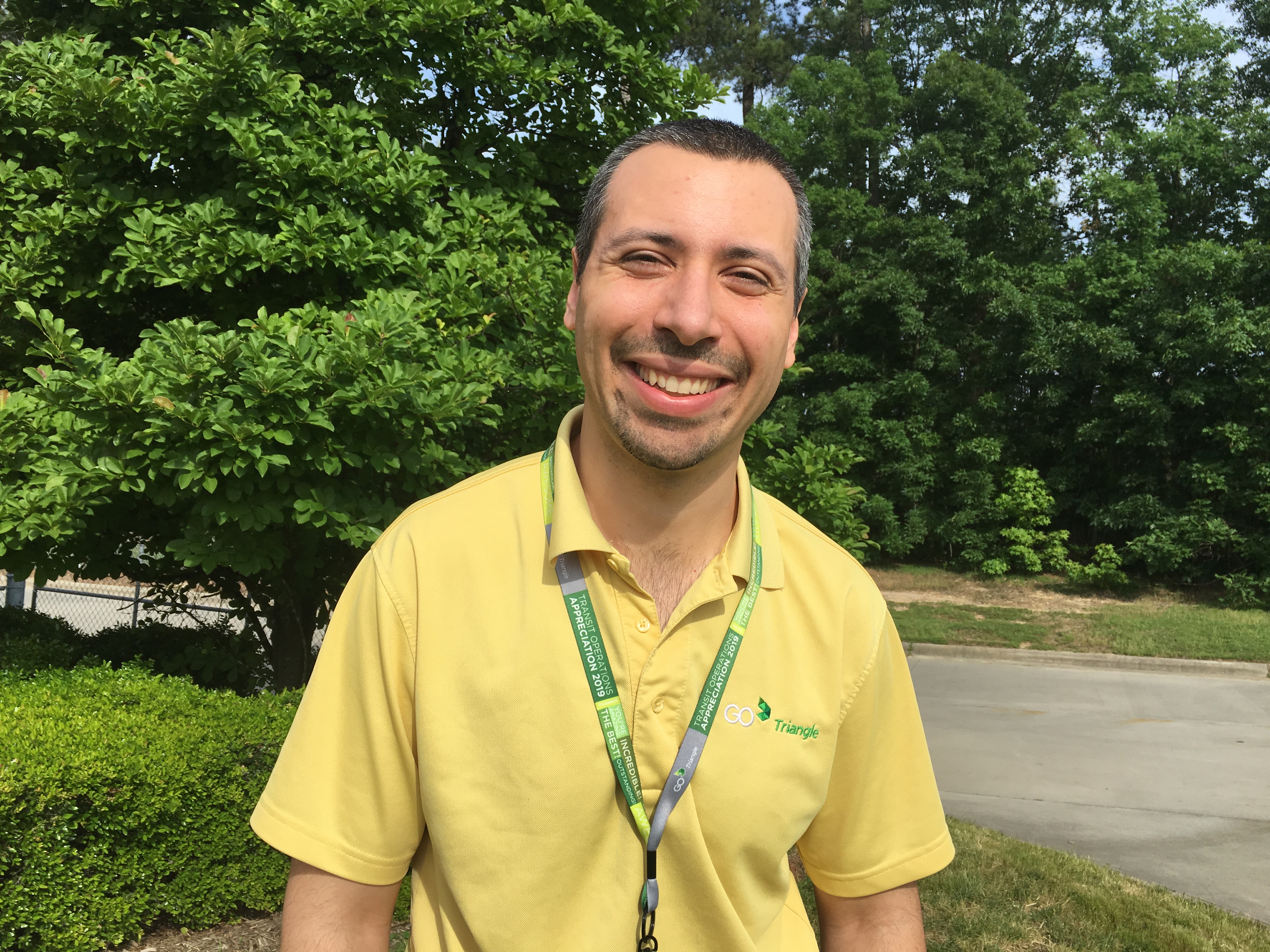 A city planner by profession, Andrea Neri has lived, studied and worked in diverse places – the Italian countryside, Rome, poor mining villages in Wales, the theater district of London, densely populated Chinese cities and a university in Mekelle, Ethiopia.
But it is in Hillsborough, North Carolina, where he finally set down roots after falling in love with an American woman and joining GoTriangle as a bus operator in 2017. He still enjoys traveling, now as he steers the bus for passengers.
"I am a traveler," he says, smiling, when asked to tell his life story. "It's long."
And nearly unbelievable in range.
Born in Venezuela of Italian parents working in the South American country, Neri returned to Italy with his parents when he was 5 years old. He grew up in Rome, where he earned a bachelor's degree in City Planning from the Sapienza Università di Roma while working as a distribution manager at a sports magazine to pay for his studies and doing an internship with the Municipality of Rome's Office of City Planning.
When he decided he wanted to experience the Italian country life, he set out to Barbarano Romano – a municipality dating back to pre-Roman times. He wandered around asking for work and, on his second day, got a job pruning olive trees.
"I am a city person, but I rented a medieval tower there," he says. "My house was basically three rooms with a spiral in the middle, and I loved it."
After six months, he returned to Rome, but curious to see the world, he headed to London. There, he landed a job as an usher in a theater in Trafalgar Square. Unable to speak English, he says, he took to smiling a lot as he helped seat theatergoers, including celebrities – like Kevin Spacey and Helena Bonham Carter – whom he says he didn't recognize at the time.
For a few months, he worked as a Whole Foods Market cashier in London while applying to enter a master's degree program at the School of City and Regional Planning at Cardiff in Wales. His studies revolved around reviving depressed communities. To gain research for his thesis, he lived and worked in one of the poorest Welsh counties, commuting from one city to another by bicycle.
"It was just beautiful," he recalls. "So incredibly poor, but it was really interesting."
An unrelenting wanderlust
He faced the challenge of breaking into a close-knit community that had seen few outsiders and didn't trust them. Within months, he came to realize that revitalization is possible only when the community members themselves accept and engage in the effort.
Still at college, wanderlust kept tugging at him. "I still had the feeling that I was in this flow that was taking me from one place to another," he recalls.
When a Chinese professor asked if he were interested in going to China to work in city planning, he quickly accepted the offer and soon was working with officials from a Chinese city planning institute who were creating a countywide master plan.
"They flew me around China," he recalls. "My office was governing from above the lives of millions of people. The plans in the office would sometimes involve – and this was hard to take – the eviction of thousands of people or their resettlement."
A good memory he recites is of convincing city planners not to destroy a small street in a city with a population of 300,000.
"As far as I can see on Google maps, it is still there, which is good, because it was the very last place with some kind of traditional feeling and I loved it," he says. "It was not majestically beautiful, but it was like the last, old road – poor, but old and beautiful. Coming from Europe, I know that in the 1800s, they were pulling down everything, thinking it was poor. And now whatever is actually saved is what makes European cities interesting."
After his work in China ended, he headed back to Rome but soon seized another chance to see the world. In 2013, he began teaching city planning classes at the Ethiopian Institute of Technology in Mekelle.
A surprise ceremony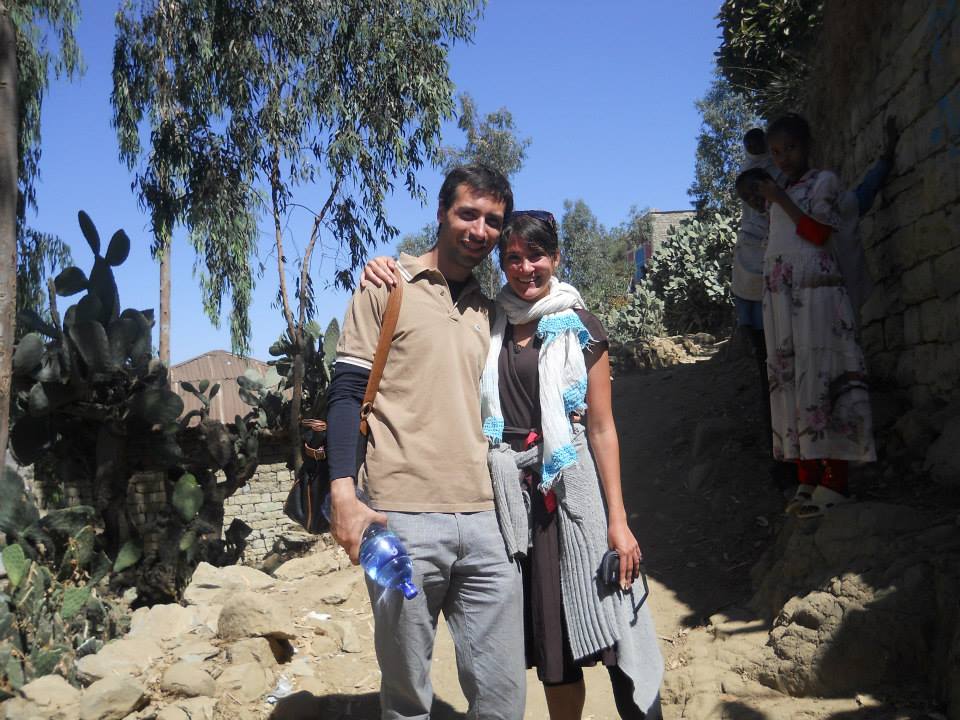 In Ethiopia, he met Nicole, an American Peace Corps volunteer who was working as a teacher in a village there. Both had arrived at the same time and were on two-year contracts. Within minutes of meeting each other, they fell in love, he says, but soon Nicole was facing criticism from villagers who had never seen unmarried women – aside from prostitutes – openly display affection.
Five weeks after they met, the couple invited the villagers to a party, where the two were surprised by all the attention the locals showered on them. Due to the language barrier, they did not realize that they were at the center of an Ethiopian marriage ceremony until the party was half-way through.
"They sang to us, brought the bridal hat and they put a ritual white belt about my waist," he says. "It was really nice. They got presents for us!"
Over the next couple of years, the couple spent vacations together, met each other's parents and eventually returned to Italy where they lived for a few months until Nicole's visa expired in 2015. She returned to the U.S. alone and found work at Duke University, but the two were miserable apart. When Neri came to visit Nicole at her home in Hillsborough that year, they decided to get married and so began their life together in North Carolina.
After working minimum wage jobs at a Mebane sporting goods company and a bakery in Durham, Neri applied to GoTriangle and, by going through our training, gained his Commercial Driver's License in July 2017.
"Getting into GoTriangle really turned my life around," he says. "I definitely needed a full-time job with decent pay with benefits and retirement. With a family, you really need these things. It turned out that I really loved driving buses. Being on the bus every day, I would have different routes, so I would be taken different places. So that really helped with getting a little more settled, with making my own nest, rather than flying around. It gave that stability that we needed."
American Dream come true
In 2017, Nicole gave birth to a girl, in September 2018 Neri was promoted to dispatcher at GoTriangle and in March he became a U.S. citizen. Now he says his life is complete.
"I feel like this is just the beginning of our story," he says, smiling as he checks in operators at the office. "I love our little house in Hillsborough with my wife, baby, puppy and kitty, making it my beautiful American Dream come true. In just one year, I got promoted to the dispatching position. There's a feeling when you get promoted that you're more part of the company."
Passing by the dispatcher's window at GoTriangle, Bus Operator III Cheryl Hester stops to chat with Neri and tell a stranger how she feels about him. "Good kid," she says. "He's smart. He's intelligent. He's a good teacher – that's what I love about him."
All this praise embarrasses Neri, but Hester continues, undaunted. "It's the way he is pleasant, and it makes everybody want to be around him at all times. He is an excellent teacher – he is not about power – he is about teaching. He lights me up when I see him – him and his little girl and his wife."
Neri chuckles and says, "Awwwwww."
"He is a blessing to us," Hester says. "I'm glad to have him here. When you left those Ethiopians over there, and you were teaching them, I know they hated it, because we don't want to see you go nowhere, either. We are claiming you. You are ours now! You are GoTriangle's baby!"
---
Whether GoTriangle team members are operating a bus, planning the routes, working on carburetors or computers or getting the word out about all of the benefits of transit, each person plays a critical role in how well we serve our community. Join Andrea at GoTriangle with a career that works for you. Learn more at gotriangle.org/careers.