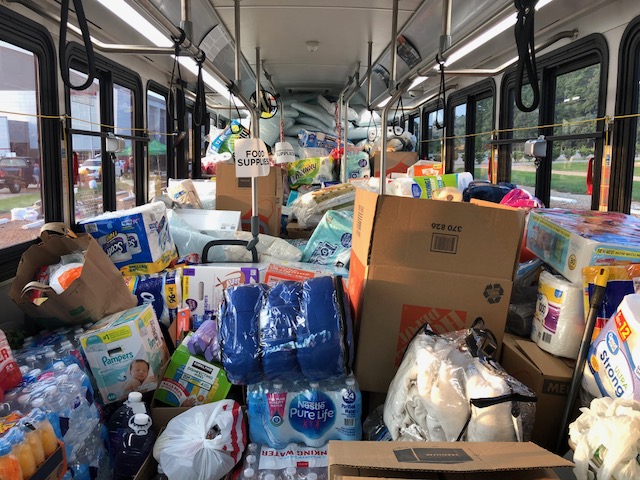 Research Triangle Park, NC (Sept. 3, 2019) – As Hurricane Dorian begins to track up the East Coast, the GoTriangle team is preparing to help people evacuate and to deliver relief supplies as needed.
The Federal Transit Administration has suspended its rules on charter buses, allowing transit agencies like GoTriangle to use buses for emergency operations including evacuations. Operations staff is in close contact with local and state emergency management teams and will be ready to deploy buses quickly if needed.
"Our core mission is to get people safely where they need to go," says GoTriangle Interim President and CEO Shelley Blake Curran. "During emergency situations we're here to help get our neighbors to safety, and we are proud to work together with state and local response teams to make sure our community is prepared and that everyone has a connection to shelters, medical centers and other places they need to go." 
Hurricane relief
If Dorian affects the eastern or coastal areas of North Carolina, GoTriangle also will be ready to collect and deliver supplies to areas in need through a Hurricane Relief Bus effort as the agency did with partners following Hurricanes Matthew and Florence.
Updates for customers
As Dorian makes its way closer to North Carolina, operations staff will continue to closely monitor conditions. Should winds, flooding and downed power lines or trees affect transit routes in the Triangle later this week, GoTriangle will relay important information to keep customers safe. In addition to monitoring gotriangle.org and godurhamtransit.org, transit customers can follow the agencies' Twitter and Facebook accounts for service updates or any detours. Follow GoTriangle on Twitter at @GoTriangle and GoDurham at @GoDurhamTransit. The TransLoc app and triangle.transloc.com website offer real-time updates on when buses should arrive. Find other tips and information at gotriangle.org/weather.
Riders also can call the GoTransit Regional Information Center for updates and help at 919-485-7433.